AAAAARRRRR!
Avast ye mateys... 'tis "Talk Like a Pirate Day" today! It be a proud day indeed for we pirate-lubber folk. Me an me monkey be drinkin' grog and pillaging the worthless bilge rats of this shanty town. 'Tis only a wee matter of time afore we be claiming our treasure and sailing the high seas...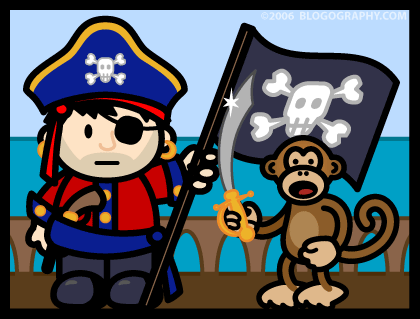 Whilst we be out seeking me fortunes, I be givin' ya a new port of call. One of me favorite bloggers, Peggy Archer be havin' a beauty of a new site for ye all to plunder! It be called "Abandoned Couches" and she be usin' a fine treasure of a couch from Blogography's home port here! So shiver ye timbers and be payin' a visit smartly to this fine pearl of a site before me be dropin' anchor in yer scurvy lagoon, ye sea dogs! AAAAARRRRR!
Aye! Me barnacles need a scrapin' so I be off!