Today is Blog Appreciation Day and, trust me, if I had the time to load up the hundreds of blogs I read so I could take their photo, I would absolutely do that. But, on top of all the crazy stuff that happened today, my new Mac Pro showed up, and so a huge chunk of my day was spent setting it up, transferring files, and screaming (if you're really interested, I've put the whole ordeal in an extended entry).
But, despite the fact that I couldn't participate, Kevin and Karl were nice enough to photograph my blog anyway...
Unfortunately, it's also "Planet Depreciation Day," and some dumbass astronomy guys decided that Pluto was no longer a planet. This is totally lame, and I have news for you... I don't really give a crap what they say, to ME Pluto is STILL A MUTHERF#@%ING PLANET!! Hey, it sure looks like a planet, and even has a freakin' moon...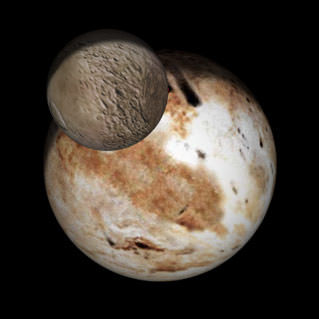 Okay then. If the joys and frustration of Macintosh computer ownership fascinate you, then feel free to continue reading about my day in an extended entry, filled with bitching and geeky goodness...
ORDERING...
On August 7th, I placed an order for a 2.66Ghz Quad Xeon Mac Pro packed with memory and hard disk storage. The Apple Store was giving an assemble & ship date of 2-4 days. Unfortunately, I placed my order through the Apple Business Sales Group, so the order wasn't even processed until FOUR DAYS LATER. During this time, I found out that the Business Sales Group pretty much sucks ass. The "sales associates" have absolutely NO abilities whatsoever EXCEPT to take your order. They can't follow-up and tell you why it hasn't been processed. They can't answer questions. They don't know anything. Half the time, they never even respond to your emails. By the time my ship date had been changed for the second time, I was outraged. Any attempt to get answers were met with a complete runaround, or outright lies (I was told at one point that the reason my order was late was because of the Airport Wireless Card... but I never ordered one!). In order to shut me up, my sales rep finally told me that she had the order expedited to ship overnight at no additional charge. This turned out to be yet another lie, and it was shipped regular ground service. All I can say is that if this is the treatment Apple is giving business customers, it's no wonder that their business sales suck ass. Since this is F#@% Off And Die Thursday, I'd like to say "F#@% Off And Die" to Apple Business Sales. Though that's a little harsh, because their completely powerless and useless status probably isn't their fault.
DELIVERY...
After a 2-4 day shipping window slipped to FOURTEEN F#@%ING DAYS, my new Mac Pro finally arrived seventeen days later. Interesting to note that Apple no longer uses an outer shipping carton, so my beautiful black laminated box was totally beat to shit. Still, ignoring the carton destruction, the computer was well-packed and arrived in good shape. Or so I thought.
CONSTRUCTION....
As usual with Apple products, the design is functional, beautiful, and brilliant. There is simply nothing that compares to the new Mac Pro... Dell POS PCs look like crap by comparison. This new machine is a work of art, yet the metal exterior is surprisingly rugged. Access to the interior is sweet... no stupid screws, just one elegant release lever and you're there. The massive size of the machine allows for all kinds of card slots, hard drive bays, and optical bays for expansion. I could not be happier. Even better, the Mac Pro is whisper quiet, with the only noticeable sound being the hard drive.
CONNECTORS...
If there's one area where Apple completely sucks and can kiss my ass... it's their constant need to develop proprietary connectors on their peripherals and then drop support for them. Turns out the ADC (Apple Display Connector) on my Apple Cinema Display has been dropped. It also turns out that the proprietary connector on my Apple Speaker Orbs has ALSO been dropped. My new computer has no sight and no sound. Even worse, Apple championed FireWire as their connector of choice, causing me to buy all FireWire peripherals... then decides to put only ONE FireWire connector on the back of their high-end computer. USB-2 is the connector of choice now. This pretty much makes Apple a piece of shit who expects you to toss your perfectly useable peripherals every time you buy a new machine. So now I've had to buy a FireWire hub, new speakers, and a $100 ADC to DVI adapter before I can even use the thing. Hey, I know that connectors need to advance along with technology, but this kind of rapid abandonment is just stupid.
SET-UP...
Despite the fact that there wasn't a scratch on the machine, it was dead on arrival. The power button ignites and I hear stuff, but the machine doesn't boot. Horrified at the thought of trying to get another machine out of the hopelessly useless Apple Business Unit, I Googled "DOA New Mac Pro" and was immediately greeted with hundreds of hits. Turns out most people solved the problem my reseating the RAM and video cards, which (thankfully) also worked for me. After solving that idiotic problem, I faced another... this new Mac is frickin' HUGE! I had to spend the next 45 minutes completely taking apart my desk so I could reposition the shelves and get it to fit underneath.
INSTALLATION...
After all the crap I've just been through, it was time that something go right... and it does. Apple has a migration assistant that copies all the settings and stuff off your old machine automatically. Between that and syncing with .Mac, my new Mac Pro was good to go in record time. I compare this with the pathetic equivalent on Windows which has NEVER worked for me, and realize once again why I am a Mac whore. Apple simply knows how to do things right.
EXPERIENCE...
I put off buying new computers for as long as possible. I just don't feel the need to constantly have the newest, bestest, most bad-ass machine. So long as the computer can do what I need for my work, I'll hang on to it (which explains why my desktop Mac at home is STILL the beautiful G4 Cube). But my aging G4 Power PC Tower was to the point where it was painfully slow and not capable of running the latest software, so it was time to upgrade. The difference in speed with the new Mac Pro is staggering. The Finder interface is snappy and wonderfully responsive. Universal Binary apps (compiled to run native on the Mac Pro's Intel chipset) are an absolute joy to use. This is the way the MacOS was meant to be run, and it's really impressive just how big a difference fresh hardware makes.
ROSETTA...
For those applications which are not yet compiled as Universal Binary, Apple has a seamless emulation engine to run the PowerPC code on Intel which is called Rosetta. Since all my Adobe apps (Photoshop, Illustrator, etc.) have to go through Rosetta, performance takes a hit. Even so, they are still quite a bit faster than on my old G4. Surprisingly, I've not run into any compatibility issues. Granted, I've only been using it for a day, but things do look promising.
CONCLUSION...
Anything that makes my work go easier and faster is aces in my book, and the new Mac Pro is super-sweet. Despite the problems with getting my "old" peripherals hooked up (and having to re-seat my RAM and video card) I am pretty impressed. About the only thing that is truly puzzling here is that Bluetooth and AirPort wireless aren't standard. This seems crazy given that "lesser" Macs (like iMacs and Mac Minis) have these built-in. All that being said, the price vs. performance when compared to equivalent Windows PCs is pretty close, which is a pleasant change. No longer do Mac professionals have to pay a premium just because they want a better computer with a superior OS. If you're limping along with a G4 like I was, now is probably a good time to upgrade. If you've got a G5 and use Adobe apps, then you're probably better off waiting until Adobe gets off their ass and makes their Creative Suite a Universal Binary. :-)
Argh. Time for bed.