There wasn't much I had planned today. A few museums. Eating REAL bagels from H&H on the Upper West Side. That kind of thing.
Oh yeah... and visit the new 5th Street Apple Store.
This amazing new structure is about the coolest Apple Store yet (though I still loves me Tokyo, Chicago and L.A.) and is really beautiful with the light shining through it. The store itself is actually underground, but the big cube marks the entrance to the glass staircase and houses the elevator tube...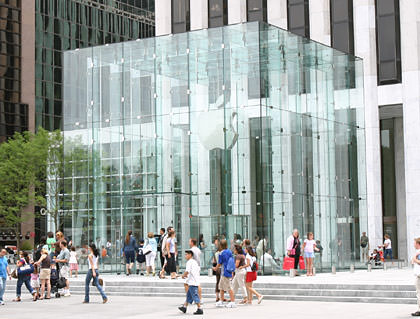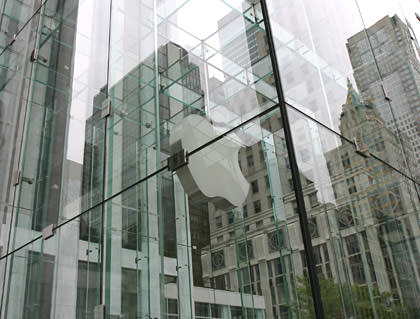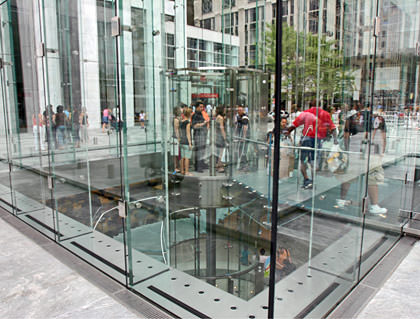 Once I was finished snapping photos and ready to descend into the packed store below, a guy walked up to me... turns out it was Timothy from Araalinas (and now at Araalinusa)!! He has one more day in the city before heading to Uganda to teach, and apparently wanted to see the Apple Store before leaving the country.
It's strange, because when I first saw him, something familiar flashed in my head but I dismissed it. But when he walked up to me, I recognized him immediately from his blog (it's a small blogosphere after all!).
After we said our goodbyes, I wandered down to the Apple Store and suddenly realized that I should have gotten a photo, because nobody is going to believe this. After getting back to the hotel, I immediately unloaded my camera to see if he was in any of the shots I took. Sure enough...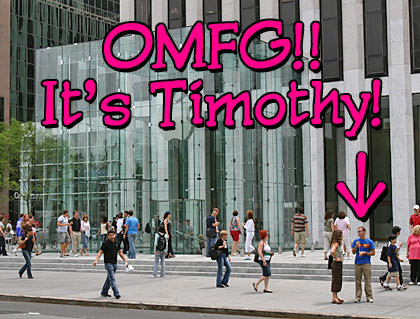 Now, seriously. What are the odds here?
I mean, I run into people every once in a while who recognize me (or, to be more accurate, my shirt), but a fellow blogger I read who is from American Samoa via Florida on a stopover in New York City before he's on his way to Africa? This is some crazy stuff right here.
And there I was with no Hello Kitty Pop-Tarts to offer him.
Blogging is SO worth it.