So your train back to New York is delayed. Does this mean Amtrak puts you on the next train into the city so you don't have to hang out at the station for two hours? Sure... if you are willing to pay the $34.00 price difference between your regional train ticket and the express train ticket. That's some terrific customer service right there! I wonder if they would be willing to pay me for the time I wasted because of their delay?
BAD: Things go so terribly wrong at work that everything is cancelled.
GOOD: You now have a free afternoon in New York City.
BAD: Your project is now delayed, which means you're screwed.
GOOD: There is a substance called alcohol that will make you not mind being screwed so much.
BAD: You're still screwed once the alcohol has worn off.
GOOD: There's always more alcohol...
"Hello. My name is Dave, and I'm an alcoholic" is only slightly less cool than "Hello. My name is Indigo Montoya. You killed my father. Prepare to die."
I think I'll go for it.
As an alcoholic I'll have a valid excuse for urinating in the street and bitch-slapping people who bother me. "I'm sorry officer, I was drunk" I will say when the police arrive at the scene. I can only hope that I am not urinating on him as I say it, because that surely wouldn't go over very big with New York's finest...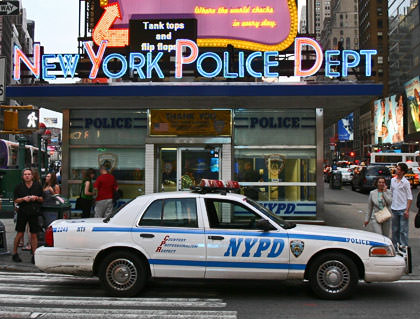 Wandering back to Times Square for dinner, I was walking past the Hard Rock and saw something I never noticed before... there's a fork flashin' horns above the HRC guitar! So very cool...
And look! IT'S MR. PEANUT!!!
Everybody loves Mr. Peanut!
And I love New York.
Tomorrow I am going to spend the day goofing off in the city.