Yesterday afternoon as I was standing in line to check-in to my Chicago hotel, I overhear something curious in a conversation between two sarcastic twenty-something bitches in the lobby...
"Well, the world is going to hell and the gays have invaded the city."
And in my mind I'm thinking "Seriously? The gays have invaded Chicago?? I didn't see that one coming."
Suddenly my head is filled with images of the gay militia pouring into the streets of the city, looking fierce and fabulous! They're wearing lovely pink camouflage latex tank-tops with matching pink boots and a perky beret. They're armed with rhinestone-studded assault rifles (assuming you can bedazzle an AK-47) and the world is awash in sequins and glitter. They're setting up their HQ in Hancock Tower (tee hee), and it's the prettiest invasion ever (I hope there's good television coverage when I get to my room). I then wonder if my 20% status is enough to join-up because I, for one, welcome our new militant gay overlords...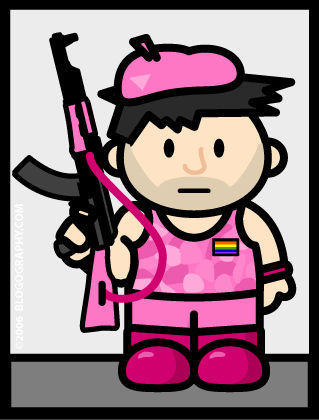 And then I find out that it's a different kind of invasion entirely. Chicago is hosting the Gay Games this coming week, and the opening ceremonies are today.
Well, darn.
I was really hoping for an actual gay invasion because that would certainly make this trip a memorable one.
And speaking of "fierce and fabulous" - am I the only one NOT going to BlogHer at the end of this month? It seems like a lot of the blogs I read have everybody gearing up for the event. I thought it was a conference just for the ladies, but now I'm seeing that guys are going too.
I always miss the good parties.