Last night I had to go to the store so I could buy some more food and snacks. As I was walking in, a woman and her three horrifying children came in behind me... each of them yelling about something. Finally one of the kids wanted to go look at magazines, so the entire brood went running off screaming.
What happens next is not pretty, but it does have me curious...
Okay. Let's say you have three kids. Let's further say that these three kids are going ape-shit in the magazine section. They're throwing magazines at each other. They're spilling magazines on the floor and sliding around on them. They're flinging those little subscription cards everywhere. It's total chaos in the red zone...
So where are you in this scenario?
A) You are over in the cereal aisle screaming at your kids from across the store to behave or else they will be in trouble. But you don't really mean it... it's just an empty threat. Your kids know this, so they completely ignore you. And hey, it's not your magazines being ripped to shreds, so you just don't care.
B) You are all the way across the store in the produce section. You hear your kids raising hell somewhere, but this is your "alone time" so you pretend you don't hear a thing. Why not let the store staff babysit your kids... that's what they're paid for isn't it?
C) You are at the check-out counter flirting like a whore with the guy at the register. To better your chances at scoring, you pretend that the kids going crazy over there aren't yours. Maybe if you ignore them long enough, they'll just go away.
D) You are out in the parking lot smoking a cigarette. Your kids are completely forgotten for the moment... out of sight, out of mind and all that. You contemplate ditching them at the store for a few hours so you can go get a manicure.
Have your answer yet?
Well, if you were any kind of parent at all, you would answer "E) I'm over in the magazine section beating the shit out of my kids and teaching them how to behave in public."
But if you are the bitch that followed me into the store... THE ANSWER IS ALL FOUR, A THROUGH D!!
Yes, you read that right. This bitch let her kids go insane while she was shopping, smoking, and whoring it up. She made a half-hearted effort to scream at them once from the cereal aisle, but then ignored them entirely. When I left, she really was in the parking lot loading up her groceries and having a smoke. I have no idea if she ever went back in and got her kids or what.
And I'm not being sexist here... this could have just as easily been a guy. Bad parenting knows no gender boundaries.
It's times like this I really do wish I had copies of my "Dumbasses Books" to hand out to people...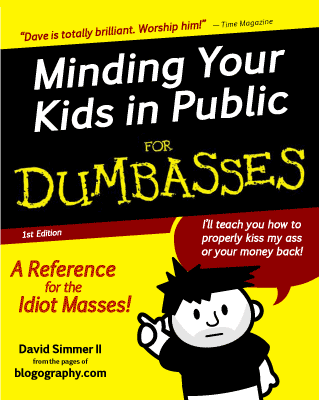 Instead, my only option is to run up and slap the bitch. But I opted not to, because I have no desire to see what the jail cells look like in rural Wisconsin.
Why, why, why, WHY isn't there an intelligence test required before people are allowed to have kids? From what I have seen, it would cause quite a dip in the population (because most people are really, really stupid and should never have kids) but I would be okay with that.
Dumbasses shouldn't be breeding anyway.