I woke up in the middle of the night and ended up working for four hours. Realizing that I would need some sleep before starting my "real" work day, I decided to take a nap for a couple hours. Waking up refreshed, I was looking forward to this being a good day. I mean, it's Friday, how bad could it get?
You'd think that I would learn to stop asking those kind of questions.
Grabbing my PowerBook off the night-stand, I check my email and the very first one I open is this note from Cynical Dad...
I know you're probably in mourning right now, but in case you haven't heard, let me break the news to you gently. Liz Hurley has been fired from Project Catwalk.

But wait! It gets worse. Her replacement? Kelly Osbourne.
http://www.itv.com/news/entertainment_1316182.html

Sorry,
Chag
WHAT THE BLOODY F#@%?!?
Time for the five steps of mourning...
Denial. NO! It's not true! CYNICAL DAD IS A LYING BASTARD!!
Anger. Sky One Television must be destroyed! I will kill Kelly Osborn with my bare hands!!
Depression. Waaaaahhh! Where am I going to get my Liz fix now?!? I want to die.
Bargaining. Perhaps if I were to kidnap Sky One owner Rupert Murdoch, Sky One can be convinced to put Liz back on the air!
Acceptance. Typical. American network execs are total dumbasses, why should their British equivalents be any less stupid?
When you stop and think about it, it all makes perfect sense. Kelly Osborne is totally a worthy replacement for the hottest woman alive...
Because when I think of beauty and class, Kelly Osborne comes immediately to mind...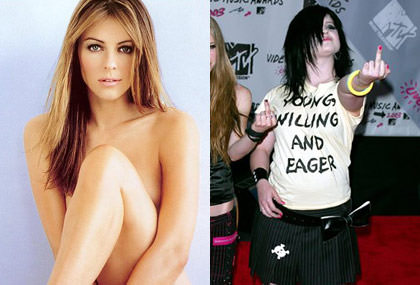 I mean, I know that Elizabeth Hurley has been a model for nearly 20 years now, so how can she possibly hold a candle to a young, fresh talent like Kelly Osbourne today?
And when one thinks of elegance and poise, is Kelly not the first thing to come to mind?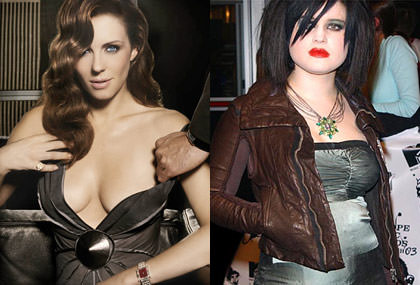 Forget the fact that Liz has her own successful swim-wear fashion company and Kelly's "Stiletto Killers" fashion line closed its doors two months ago, I'm sure Kelly knows much more about fashion...
And aren't people just sick and tired of looking at Elizabeth Hurley's flawless breasts? I know I sure am!
Trust me, I totally GET IT now...
Besides, Kelly is a famous singer now! Who cares how you look so long as you can sing!
Yep, Kelly is the perfect choice. Nobody says "fashion" quite like a foul-mouthed little bitch who talks as though she's been smacked in the head with a baseball bat...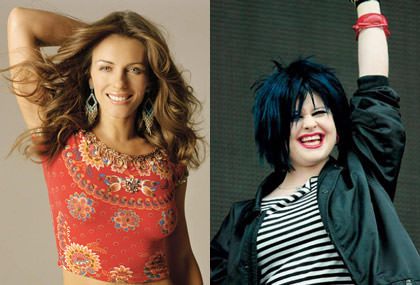 The thing that totally baffles me here is how incredible Elizabeth Hurley was on the first season of Project Catwalk. She totally blows away Heidi Klum here on the American original series Project Runway. I can only guess that Kelly was cheaper (in every possible way) and so the execs at Sky One decided to cut costs and hire her. Forget the fact that this trashes the reputation of the show completely, so long as you can save a buck, what does it matter? I always thought that British television had higher standards than anything we get here, and having Liz host was proof of that.
Tragic that this is no longer the case. "Too wooden" indeed.