It's midnight and I am too tired to work another minute. My mind is all fuzzy, which means I'm no good to be on the job anyway. Fortunately, it doesn't require any brainpower to write in my blog, so here we are.
Today (now yesterday) on my third trip to the post office I had to wait in line behind a few people. The guy ahead of me was wearing some very scary comb-over hair that had holes in it. But that's not what made him look astoundingly stupid.
He had one of those ridiculous bluetooth wireless headset thingies for his mobile phone that he was talking into.
LOUDLY!
As he was yacking away I had a hard time deciding if he looked more like a Borg from Star Trek...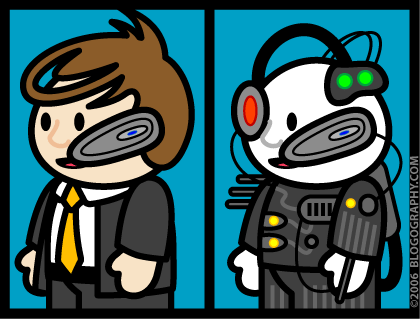 Or just a complete dick...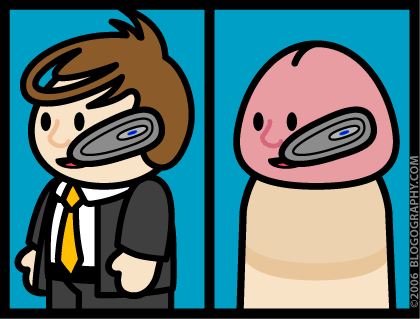 Well, not a COMPLETE dick... because the one shown above is circumcised... but you get the idea.
All I can say for sure is anybody who walks around with one of those things looks like a serious tool, and every time I see somebody wearing one I want to rip it off their head and kick it up their stupid ass.
And then set them on fire.
And then push them into a barrel of gasoline.
That's been topped off with napalm.
And is sitting on top of a pile of dynamite.
Because anybody who doesn't realize how stupid they look while walking out in public with a piece of plastic sticking out their ear needs to be asploded quite badly. Not only for their own sake, but for the betterment of society as a whole. I mean, seriously, I'm pretty sure even Lt. Uhura took that shit out of her ear when she left the bridge of the Enterprise...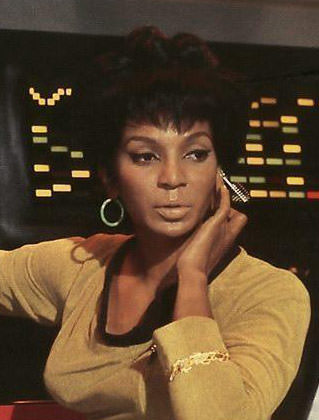 What worries me greatly is that if enough assholes keep wearing this crap, pretty soon it will become acceptable to do so (much like polyester suits in the disco era). The day that happens is the day I'm up in a bell tower with a rifle shooting people.
Assuming I could find a bell tower. Do they even make those anymore?
In England they have "happy slapping" where idiots go around slapping people for no reason and filming it with their mobile phones. I say that they should find a purpose in life... instead of slapping randomly, they should focus their attacks on people wearing bluetooth wireless headsets. We could call it "bluetooth slapping", and I think it would kick ass.
I would draw a cartoon of that, but I'm about to fall asleep on my keyboard...