Is there anything worse than having to listen to screaming little girls first thing in the morning?
Apparently the irritating little bitches moved in nearby, because I'm forever hearing them running around screaming in that way that only little girls can. Bad enough I have to listen to this crap in the evenings... but in the morning too? If it wouldn't get me arrested, I'd run out and give them the slapping they so richly deserve.
Hey, if the parents aren't going to take care of it, somebody should.
And speaking of little bitches...
WAAAAAAAAAHH! I finally got to go to bed at 2:00am, and now I am being woken up at 5:30 by screaming girls!! AAAAHHHH! AAAAAAAHH! AAAAAAAAAAH! Kill me. kill me now. Whoa, wait a second... I think they just piled in a car and went screaming into the dawn. And now I am going to have bad karma all day because I was just now hoping they would crash into a tree and explode. And now I feel bad because if they really DO explode, my evil thoughts are probably responsible.
Of course, the up-side of exploding is that I wouldn't be woken up by screaming girls again.
This must be one of those moral dilemmas I've heard about.
Hey... I tried to post this entry and my internet is down! Wow. Karma works fast! Rebooting and all the regular stuff doesn't work, so let's call Verizon!
VERIZON: Welcome to Verizon! You've reached Verizon Internet Services! This call may be monitored for training purposes.

DAVE: Hey, thanks baby! You've got a really sexy voice!

VERIZON: Para Español, marque dos.

DAVE: Uhhh... what if I want English? Numero uno?!?

VERIZON: Please say the number on the account you are calling about.

DAVE: (says number)... thanks for asking!!

VERIZON: Which are you calling about tech support, your account, orders...

DAVE: Tech support. Which is a pleasant change from all those times I have to call with billing problems.

VERIZON: I'm sorry, I didn't understand. If you are calling for tech suppor...

DAVE: TECH SUPPORT!

VERIZON: Which kind of problem are you calling about? Connection problems, installation, email, or password reset.

DAVE: Connection problems. At least I am guessing it is a connection problem because while I AM connected to your router, I can't get connected to the internet.

VERIZON: I'm sorry, I didn't understand. For problems with your conn...

DAVE: CONNECTION!

VERIZON: I'm sorry, I didn't understand. For problems with your conn...

DAVE: CONNECTION YOU BITCH!! CONNECTION! CONNECTION! CONNECTION!!!!

VERIZON: Which are you running? Windows, Macintosh, or Another Operating System?

DAVE: Macintosh. That's how I am certain it's YOUR fault. If I was on a Windows machine, I'd be calling Microsoft first.

VERIZON: Have you tried rebooting your computer and your computer system?

DAVE: Yes. I also lit a candle and said a prayer to the internet gods. In a minute, I'm going to start chanting.

VERIZON: I'm sorry, I...

DAVE: YES!!

VERIZON: Okay then, would you like me to test the line for problems at your location?

DAVE: Why not. If it will keep me from having to talk to one of your sublimely helpful support personnel, I'm all for it.

VERIZON: I'm sorry, I...

DAVE: YES!!

VERIZON: Please hold while I test your line. This test can take as long as 60 seconds. I am running the test right now. BEEP BOOP BEEP BOOP BOOP BOOP BEEP...

DAVE: I haven't heard these kind of cheesy "computer sounds" since watching those old Star Trek episodes! SCOTTY, WE NEED WARP SPEED IN SIXTY SECONDS OR WE'RE ALL DEAD!! -- I CANNA DO IT CAPTAIN! I'M GIVEN YA EVERYTHING SHE'S GOT! -- DAMMIT JIM, I'M A DOCTOR, NOT A BRAIN SURGEON!! WELL, OKAY, I AM A BRAIN SURGEON... I JUST DON'T LIKE STICKING MY FINGERS IN BRAIN!!

VERIZON: For technical help, there's a great web site available to assist you: onlinehelp.verizon.net

DAVE: I am calling with a CONNECTION PROBLEM! If I could bloody connect to the internet, would I be calling with a CONNECTION PROBLEM you silly bitch?!? And what happened to that line test you were running? Are you even going to bother telling me how that turned out? This is the...

VERIZON: Customers in the [SPOKANE, WASHINGTON] area may currently be experiencing problems connecting to the internet. Our engineers are aware of the problem, and are working to resolve it.

DAVE: WELL THANKS A LOT YOU DUMBASS!! COULDN'T YOU HAVE TOLD ME THAT WHEN I GAVE YOU MY AREA CODE AT THE VERY BEGINNING?!? I HOPE THAT THIS CALL IS BEING MONITORED SO I CAN TELL YOU HOW F#@%ING STUPID IT IS! I HATE YOU! I HATE YOU EVIL VERIZON BITCHES FROM HELL! DIE YOU BASTARDS! DIE! DIIIIIEEEE!

VERIZON: I'm connecting you now...
Blargh. Usually you have to call a mobile phone company to get this kind of shitty service! Oh wait... Verizon has mobile too! Hey, at least they're consistent.
There is good news today though...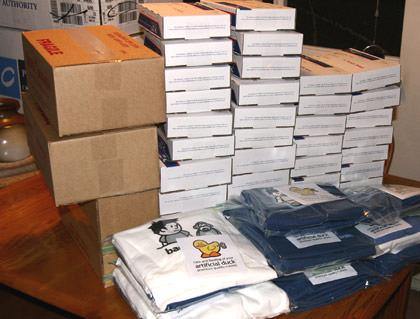 That's the final 64 T-shirt orders left from my Blogiversary III Celebration. Those in the front are the remaining international orders for which I ran out of Global Priority boxes (hopefully they will be waiting for me at the post office this morning). As happy as these people will be to receive their orders at long last... nobody could be more thrilled than I am that these are finally shipping out.
Well, assuming I ever get internet back so that I can process them.
Karma sucks ass!