The day started out with me putting both contact lenses in the same eye and only went downhill from there.
I'd go into details, but do you really want to hear it? Suffice to say that today sucked, and just when I thought it couldn't suck any more... IT DID! I don't even want to think about it.
The big news of the day, of course, is Bill Gates stepping down from the day-to-day operations at Microsoft in 2008. Helpful hint to Redmond... HIRE A VISIONARY FROM OUTSIDE THE COMPANY WHO CAN COME IN AND REVIVE YOUR TIRED OLD SHIT!! You need a Steve Jobs at the helm... not monkey-boy Balmer who will just keep you mired in the same old crap. Hire somebody like ME who will put your billions of dollars to good use and get you to innovate your way into something new! No more dumping money into duplicating stuff that's already better than what you can do anyway... I-N-N-O-V-A-T-E!!
Oh yeah. I could definitely put billions of dollars to good use...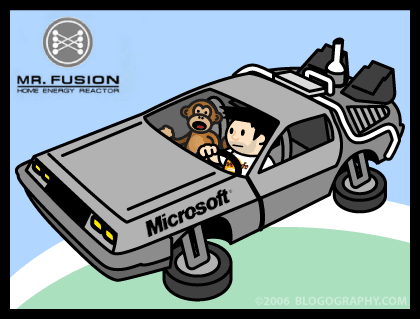 THE FLYING DELOREAN: POWERED BY MR. FUSION, BUILT BY DAVE WITH MICROSOFT MONEY, BABY!!
Seriously, who would give a crap about another stupid version of Windows or buggy MS Office update when you can make a flying car?!? Why dump money into another dumbass music service when you could spend it on developing a flying car?!? MSN? MS Publisher? Hotmail? Terraserver? WHATEVER... who really cares about that junk? EVERYBODY LOVES FLYING CARS!!
At the very least, I could have Microsoft discontinue their Windows products and license MacOS X so they could stop embarrassing themselves... they could call it "Macintosh Vista X" and finally sell an operating system that doesn't suck.
My salary requirements for running Microsoft to record profits? ONE MILLION DOLLARS A MONTH!!!
A bargain at twice the price!
Bill, I'll be expecting your call...