This morning there was a major panic attack when I couldn't find a clean pair of underwear. Eventually I did manage to find some in my flight carry-on bag but, as I was searching, it did get me to wondering what I would do if I couldn't find any. Wear a used pair... or go commando?? Fortunately, I didn't have to choose, but I really should make up my mind in case I'm ever faced with this problem again.
Underwear aside, there was big fun to be had today. I finally got the little buttons I ordered...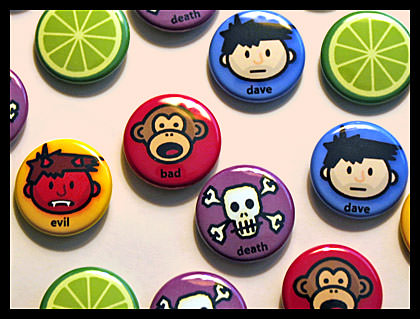 They turned out great (much better than this photo will attest), which was a pleasant surprise because some of the stuff I order from CafePress ends up looking like crap. But every button was beautiful, had bright colors, and looks professionally made, so I'm happy. Now all I have to do is wait until the weather turns cold so that I can pin them on my jacket. It'll be just like the 80's!
Speaking of orders, I am dangerously close to FINALLY filling all of the T-shirt orders from Blogiversary III week... I have a mere 64 left to go! Thanks to everybody for their patience, and everything should be shipped out by Monday.
Since it's Friday, I'll be picking up a meme from James to finish up the day. You are supposed to come up with eight random things about you which most people might not know...
I was approached about turning my blog into a set of mini-books. At first I declined, but was eventually talked into it. Unfortunately, the deal has recently fallen through because we could not agree on the direction of the project. But since I've already put a lot of work into the books, I'm toying with the idea of self-publishing them at Lulu or something (once I find time to start finishing them up). You can take a look at the cover concepts here.
When I was in high school I started collecting comic books. Though I don't buy as many as I used to, I still read some titles and have amassed a huge collection of books. My current favorites are Age of Bronze, All-Star Batman & Robin, The Avengers, Superman/Batman, Powers, and Usagi Yojimbo. My favorite comic book of all time is Superboy and the Legion of Super-Heroes.
I've always got something smart-assed to say, and am rarely at a loss for words. Given this, you would think commenting on other people's blogs is a piece of cake... but this is not the case. I like to comment on other blogs when I have time, but sometimes it's difficult. Take one of my long-time reads: What's a Delmer Look Like. Delmer's writing is great and he's always got something entertaining to say... but I always feel that his entries are perfect as they are, and any smart-ass remark I might add would be an intrusion. And then there's Tonya at Adventure Journalist. I eagerly await her every word, marvel over her astoundingly beautiful photography, and have been a fan of her blog forever. To read Tonya is to love her. But eventually you run out of ways to say "beautiful" when looking at her pictures, and so I usually just end up looking at the latest additions to her jaw-dropping gallery, and sneaking away without a word. I don't know why some blogs have this affect on me and other's don't.
I love to paint with watercolors. If I were to win the lotto and become obscenely wealthy, I'd do nothing but travel the world and paint.
I am a huge movie-buff, but am humiliated to admit some of the films that I like. Off the top of my head, they include The Associate, in which Whoopi Goldberg plays a woman trying to break into a job as a stockbroker, but finds that prejudice keeps her shut out. Eventually she invents an alter-ego of an old white guy, but finds that her new success makes the deception difficult to maintain. And then there's Earth Girl's Are Easy which features Jim Carey, Jeff Goldblum, and Damon Wayans as furry aliens who crash-land in Geena Davis' swimming pool. And, of course, Exit to Eden which has Rosie O'Donnell and Dan Aykroyd as undercover cops at a private island sex resort run by Dana Delany (and Iman as an ultra-hot bad girl assassin). There are dozens, perhaps hundreds, of others.
Likewise, there are also musical groups that I am downright embarrassed to admit I listen to from time to time. Probably the most scary is A-Teens, who sing bubblegum pop at its absolute worst. Then there's even more tragic groups like Bananarama, Erasure and even Flock of Seagulls. Even more odd is that right after listening to this stuff, I can turn right around and pop in Rage Against the Machine or Pantera without skipping a beat.
I choose not to eat any kind of meat, fish, or fowl... and choose to ignore broccoli, cauliflower, and any other vegetable that smells bad when you cook it. There is one food I cannot eat however, and that's mushrooms. They make me violently ill and seem to cause my throat to close up if I eat too many of them. That's a fungus for you.
What I am looking forward to most of all next week is an appearance by Betty White on Game Show Marathon, which is a freaky show which dredges up old game shows that are played by quasi-celebrities. Betty will be an actual celebrity guest on the Match Game segment on the 22nd. Naturally, I can't wait.
Argh. I've been working all day and it's late. I think I'll go to bed and slip into a coma.