I was going to wait until everything was ready before I said anything... but once I put a picture of my little buttons up on Friday, I've been getting emails and comments from people wanting them.
Well, soon enough you will be able to get them.
The idea for buttons came up months ago during the T-shirt voting for Blogiversary III. There were people who were passionate about one design or another, and I felt bad that not everybody was going to get their first choice. I then had an idea that no matter which design won, I'd make little pin-back buttons of ALL the designs and include them with the winning shirt design (which ended up being "Zombies Ate My Brain").
Simple, right?
Not so much. I thought the stupid little things would cost me a nickel or something (since I would be ordering hundreds of them in bulk)... turns out they would cost anywhere from fifty cents to a dollar each! And since I certainly couldn't afford that kind of money, I abandoned the idea. But then my friend Meagan came to the rescue. After explaining my problem, she devised a way to make the buttons for about 25 cents each... far closer to my budget.
So I designed the T-shirt buttons.
But then I found I couldn't stop drawing buttons.
After a week of goofing off, I had over 200 designs, and I wanted to make ALL of them into buttons...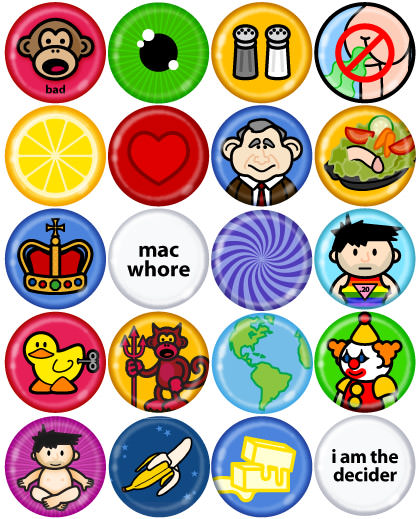 So then I came up with the idea to sell little 1-inch buttons on my website.
But, just like the T-shirts, I wanted them to be cheap so people could afford them. This ruled out CafePress and many of the online shops I looked at, because they would end up selling for $1.25... EACH!! (which meant that even with my profit set to zero, they would end up at almost $2.00 once shipping was added!). This may be fine when you get to design your own... but for a pre-made button?!? Rip-off. There was no way I would pay that, and I didn't expect anybody else to have to do it either.
And then there was the problem of filling the orders. The T-shirt fiasco where people had to wait TWO MONTHS for their order is just not acceptable. My busy life can't get in the way of people getting their buttons in a timely manner. So this meant I not only had to find a way of having cheap buttons made... but I also had to find somebody who would ship them as well.
And then I became worried that my designs wouldn't look good when reduced to 1-inch.
So, after a long brainstorming session with Meagan, we came up with a plan. First I sent in a handful of designs to CafePress to see what the buttons would look like. If they looked good, then everything else was in place... We had a place to manufacture them. We had a place to handle the orders. We had a pricing structure that was fair. We even had a cool little button-card worked up to protect the buttons in the mail! Everything was ready to go... IF the print test turned out okay.
Well it did, so now we are getting things ready to go. I am guessing that the store will be online in early July (its hard to tell, because I've got work piled so high it's going to take me a few weeks to get through it).
Once we added up the cost of the buttons, the button card, the fulfillment labor, and all the other expenses, we were pleased to discover that we could price a card of seven buttons for $5.00 (plus whatever the exact shipping charges are) and still make a profit of twenty-two cents per card! Woohoo! So that means even with shipping you should be able to get the buttons for less than a buck each domestically, and only a little over that internationally. Sweet!
Even better, I'm trying to come up with a way to sell bulk-buttons to my fellow bloggers for as cheap as possible. It's a lot of fun having blog-related things to sell or give away, and I think it would be great if everybody had a way to promote their site that isn't super-expensive. Wouldn't it be cool to go to a blogger gathering where everybody could trade buttons? It would be a great way to keep track of the people you've met.
Anyway, to everybody who ordered T-shirts from the Blogiversary III Celebration, you'll be getting a set of all four T-shirt buttons for free (just as I wanted to do in the first place) along with a half-off coupon for your first button-set purchase. Hopefully it will at least partially make up for the long wait you had to endure while the shirts were printed and shipped. Since I am running out of ways to say "sorry" I figure a little gift can't hurt.
So watch this space for further developments, and let me know if you might be interested in getting buttons for promoting your blog (if enough people are interested, we're hoping to get even better pricing).
Alrighty then... back to work.