Violence is not my way. At least not anymore.
Since applying Buddhist philosophies to my life, I am a much happier person. I'm not saying that Buddhism is for everybody, but it sure has helped me make sense of this insane world we live in. Unfortunately, it can also be a darn nuisance. Mostly because of the whole "non-violence thing". A primary precept of Buddhism is to do no harm. Since this includes not killing people, I spend most of my time being frustrated.
Take today for instance. If it weren't for my Buddhist leanings, this would be the evening headline...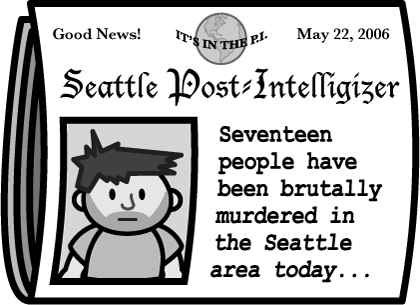 And don't think it's because I enjoy the idea of killing people... I don't.
It's just that some people are too stupid to let live.
And a good chunk of them are Seattle drivers. It never ceases to amaze me how utterly idiotic some of them get when it rains. And since it rains a bit more here than it does in other cities, this is not okay. I spent a lot of time this morning stuck in traffic and blinded with rage at dumbasses who have no business being behind the wheel.
But it's not just drivers. After checking in to my hotel, I ran to the elevator. A woman there had already pressed her floor, and so I pressed mine which was two floors lower. This instantly caused her to get pissed because now she had to make a stop at my floor before getting to her own...
Stupid Bitch: Well I WAS in a hurry.

Dave: THEN WHY DON'T YOU GET A ROOM ON THE FIRST FLOOR SO YOU DON'T HAVE TO USE THE ELEVATOR THEN?!??

Stupid Bitch: What-ever.
Uh huh. The world would definitely be a better place if people like this bitch weren't in it.
But instead of strangling her right there in the elevator, I walk away.
Because violence is not my way. At least not anymore.