Oh look! It's a trio of things that bug the crap out of me!
Captcha!
I love getting comments on my blog. I can only assume that other bloggers like getting comments too, so I try to leave them when I can. Unfortunately, given my time constraints, it isn't as often as I'd like. For every comment I leave, that's time I could have spent reading other blogs. On top of that, it seems that comments are getting more and more time consuming to write thanks to "captchas"...


Captchas are those goofy little code blocks you have to decipher in order to leave comments on so many blogs now-a-days. They are supposed to foil spammers, but they keep getting longer and more complicated, so they are foiling me too. It sucks, but whatcha gonna do? I'm thinking of initiating my own captcha system for Blogography comments. But I'm not settling for today's technology. I've developed my own Super-Captcha of The Future...

Oh yeah! Suck on that spammer bitches!
A pity captchas bug this crap out of me, because mine is sweet.
Hillary!
I don't really care for Hillary Clinton. Never have. Her politics and position on issues never seems to quite mesh with mine. I'm particularly against her censorship-driven stance against all forms of violence in media... from video games to television. It's not the job of society to babysit other people's kids. If I want to run around shooting fake people in my Xbox to keep me from going out and shooting real people with a gun, it's none of your f#@%ing business.
But then she goes and drafts a brilliant bit of legislation which binds Congressional pay rates to the National minimum wage index. This means that dip-shit politicians can't keep voting themselves pay raises again and again and again, while people trying to survive on minimum wage get shafted. Any raise in Congressional pay has to be matched with an equal percentage raise in minimum wage! Sweet. I'm for anything that limits Congressional idiots from rewarding themselves with pay raises they DON'T deserve.
It bugs the crap out of me that I am actually admiring Hillary Clinton for something, but this would be it.
Repetition!
If there's one thing I absolutely loathe about television shows, it's repetition. Characters who do not develop or grow in-between episodes. Situations that never change. Plots that are recycled over and over and over again. Why should I bother to tune in if it's just going to be the same shit I've already seen?
The show Medium is a classic example. EVERY EPISODE Allison has a psychic vision about something in her sleep. She then tells her husband who gets cranky and tries to blow it off as "just a dream". She then tells her boss who dismisses it outright. And then she gets dismissed by the detective guy too. Never mind that her dreams are right on the money EVERY F#@%ING TIME!! Seriously, WTF?!? You've seen first-hand that the bitch is a serious psychic... like what... A HUNDRED TIMES NOW?? At what point are you going to stop dismissing her or questioning her and just ACCEPT THAT THE STUFF SHE SAYS IS FOR REAL?!? How stupid are you morons?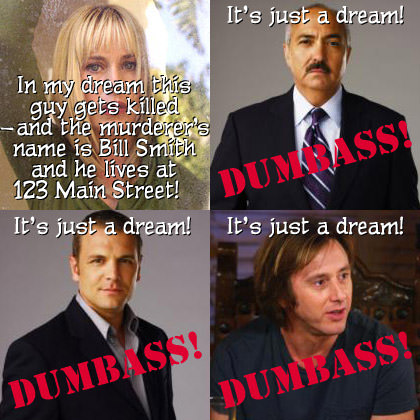 STUPID. STUPID. STUPID!! If it weren't for the constant disbelief by people WHO SHOULD KNOW BETTER, the series would be great. Great characters, terrific stories, decent acting... get rid of the blatant stupidity, and it's actually worth watching.
The fact that I continue to watch this junk is seriously bugging the crap out of me.
Argh. I guarantee you that I'll have at least another twenty things I can add to the list by lunchtime.