I woke up extra early today so I could skip through my TiVo recordings of Veronica Mars in an attempt to figure out how the "big ending" could have come so seemingly out of nowhere. The answer was easy to see, even in the earliest episodes. This was not some random tacked-on hack of an ending... from all appearances, it was carefully planned. I am so very hopeful that there are commentary tracks on the second season DVD release, because having the writers talk about how all the pieces fit together would be sweet!
Anyway...
This morning I had an appointment. Where and why doesn't matter so much as the fact that I had to use their public bathroom while I was waiting. Apparently, to dampen the smell of poop and urine, they apply some kind of harsh orange solvent to every visible surface each morning.
Ordinarily, I like oranges. They are a beautiful, sunny-looking fruit that brings a smile to my face...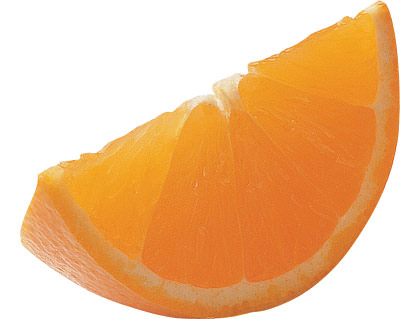 See? You're smiling right now, aren't you?
But the orange smell was so overwhelming in this bathroom that my nostrils were burning. I was truly worried about exposing my penis to the toxic air for fear of having it burn my privates. I can honestly say that it was the quickest I have ever peed. I was pushing so hard that I was running a risk of popping a blood vessel or something.
After I made a cursory effort to wash my hands and escape the Chamber of Death, I found somebody so I could ask what in the heck would possess them to create such a hostile environment in which to urinate. I further went on to inquire if they understood that chemical weapons had been outlawed by the Geneva Convention.
The woman laughed and apologized. She then explained that however bad the orange smell was, it had to be better than the smell that was originally there. Apparently somebody had an =ahem= accident. They shit e-v-e-r-y-w-h-e-r-e. Floor. Walls. Sink. ON the toilet. Everywhere. She said it was as if there was an explosion or something. But worse than that, whoever did the damage didn't tell anybody what had happened. This meant the crap stains had become semi-permanent overnight, and could not be removed easily. So they poured a bunch of concentrated orange cleaner over everything to mask the smell until they could go get a steam-cleaner and remove the fecal redecorating. After that, they poured on another bottle of orange cleaner concentrate to eliminate the stench.
"Well, it certainly worked" I said... "I can't smell anything now".
"I wish I had that problem" she replied... "because everything smells like crap to me".
Sometimes the silver lining of a bad situation is really f#@%ed up.
Today is the last day to order Blogography T-shirts and have them be printed with this month's order. Get em' while you can!