As May gets into full-swing, it's time for all my favorite shows to have their season finales. My not-so-favorite shows are having their season finales as well. In fact, shows that I loathe and don't even watch seem to be having their season finales too, so I guess it must be everybody.
And speaking of shows I don't watch... I was bored and looking for background noise while working last night only to discover that there was nothing on. Finally I settled on the Jennifer Love Hewitt vehicle (and Medium imitator) The Ghost Whisperer. I've only seen this show a handful of times and thought that it was okay, but J-Love's unfortunate hair and forced emoting kept me from tuning in on a regular basis...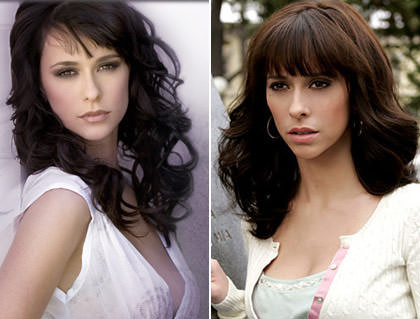 On the left is what the promotional poster for Ghost Whisperer promises... on the right is the freakish hair-do you actually get. Sure she's still smokin' from the neck down, but WTF?!? I'm sure that hair looks good on somebody, but it ain't her.
Anyway, I had intended for the show to be background noise, but I kept getting more and more involved in it. At the half-hour mark I had stopped working entirely, and was totally absorbed. Just like Medium, the writing is pretty inventive, which I like.
And then the end of the show came along and knocked me on my ass.
Seriously, I was amazed. I'm finding it difficult to imagine how even my most favorite shows are going to top this one. I mean, Veronica Mars has a good shot (and I hear that How I Met Your Mother is supposed to be kind of surprising)... but wow.
I guess I'm going to have to make room in my schedule for Ghost Whisperer next season. That's a shame, because I watch entirely too much television as it is.