Great Odin's Raven!
The wasps/bees/hornets/yellow jackets/whatver ARE REBUILDING!!
This morning I whipped back the curtains only to find that they were everywhere. All over the glass... patrolling the deck... AND REBUILDING THEIR NEST!! And they are REBUILDING IT UNDER A TV TRAY!! These little minions of Satan are indeed evil... EVIL TO THE CORE!!
Here is a corner of the old nest that I knocked down...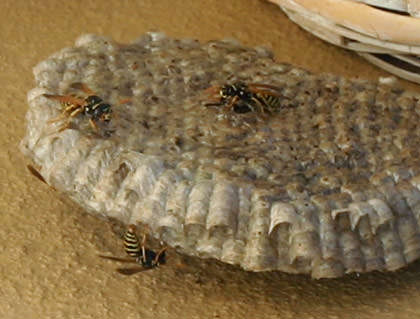 They are still using it... for something. I can only guess that they have converted the thing into an incubator for some kind of super-mutant-wasp creature meant to destroy me.
All that being said, they are really fascinating creatures to watch. The are very graceful in flight...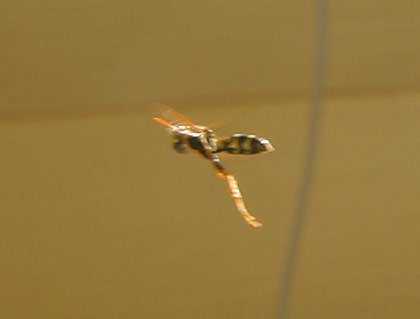 And here are the little bastards rebuilding their new ULTRA-SUPER-NEST-OF-DOOM!!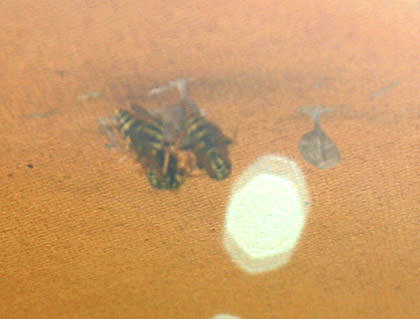 Heaven help me.
I can't really bring myself to kill any creature, so I'm still debating how to handle this. I'm thinking that tonight while they are sleeping I will pitch the old nest into the neighboring field along with the TV tray. I'll then soak down everything and try to make sure there's nothing else for them to build under. If you don't hear from me again, it's because I'm dead. Stung to death by whatever these little hellions are.
In happier news, here is a photo of my Converse Batman All-Star Chuck Taylors that some of you were asking about...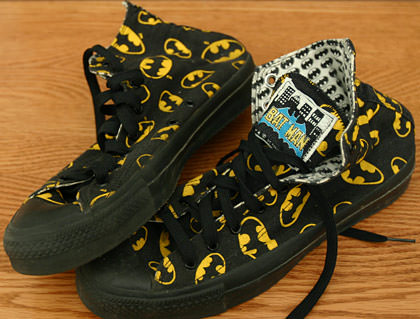 Aren't they totally cool? I'd wear them always but, since you can't buy them anymore, I limit myself to once or twice a year on special occasions. Like the party in Chicago...