WAAAAAAAAAAHHHHH... I'M A MURDERER!!!
Okay, I tried really hard to get rid of the wasps that decided to make my home their home. I really did. I knocked down their nest, put water everywhere, threw out anything that made a desirable nesting place... but no matter what I did, they kept coming back. Tonight I noticed that they were rebuilding, FOR THE THIRD TIME, and now they didn't seem to care that it was on the ground instead of hanging protected somewhere.
Obviously drastic measures were required.
So I got some RAID "Wasp & Hornet Spray" to take care of the situation. After shooing away as many as I could, I soaked all the areas they tried building. Some of the buggers were caught in the crossfire, and paid for it with their lives. I now have tiny chemical-soaked wasp carcasses on my deck, which is very sad. But the poison worked almost instantly, so at least they didn't suffer... at least so far as I could tell.
I am hoping that the smell of the spray will keep everybody else away. I don't want to have to kill any more of the little guys.
But it sure does beat the alternative...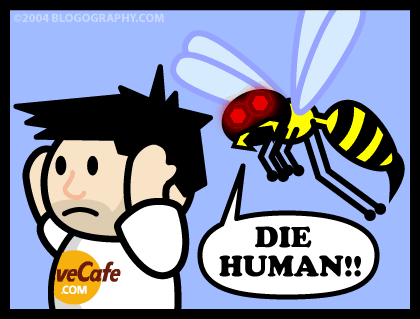 And so now I'm wallowing in guilt.
Nothing a few hours of hard work and listening to some Pantera won't cure, I'm sure.
In better news...
Veronica Mars, THE BEST SHOW ON TELEVISION, was renewed with a full order of 22 episodes (with a reduction to 13 if ratings take a dive).
After a scary moment where I thought it had been discontinued, my beloved Coke with Lime is showing up in stores again.
Apple released cool toys today (yesterday?) in the form of their sexy new MacBook which replaces the iBook. But that's not the good news. The GOOD news is that we are one step closer to getting new pro desktop machines.
Working 16-hour days is actually paying off... it looks like I will be back on schedule before leaving for Seattle next week.
I have developed the ability to explode things with my mind.
Argh. I had maybe a two-hour nap last night, and hoped for better sleep tonight. But here it is 1:30am, and I am wide awake, AGAIN. How can I be totally exhausted and wide awake at the same time? Insomnia sucks ass.