Sorry about posting so late today, but it's Pauly's fault.
This morning I received a copy of his new book The Lost Blogs: From Jesus to Jim Morrison and, just like when James' new book arrived, I simply could not put it down. I started reading when I picked it up from the post office, then continued to read it at every opportunity throughout the day until I finished it just a few minutes ago. The first thing I'm going to do after writing this entry is eat something, because I skipped lunch and breaks so that I could get through more pages. Now I'm starving, and that's Pauly's fault too.
The Lost Blogs is a compilation of various "lost" blog entries from famous people throughout history. Some of them I expected to be included (George Washington, Einstein, Shakespeare, Da Vinci, etc.), but others were complete surprises. There's 175 to choose from and, as if the variety wasn't enough, each entry is totally unique in voice and style. Taken as a whole, it is a brilliant concept that has been flawlessly executed. I totally love it...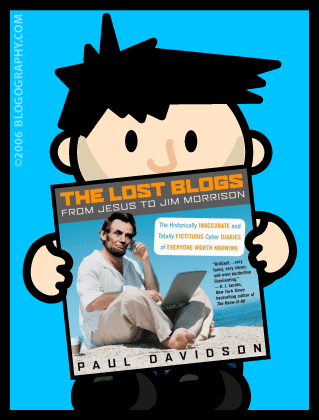 I cannot recommend The Lost Blogs highly enough. Each entry is like a potato chip, and you won't want to stop eating until you've finished the entire bag. Even then, you'll be licking the crumbs from the bottom, because now I have to go back and re-read a bunch of entries. Some of them because they were so funny I want to read them again... others because I have work to do (like translating the Samuel Morse entry from Morse Code!).
Do yourself a favor and go visit The Lost Blogs site right now. There you can learn all about the book, read some sample entries, and order yourself a copy. Whether you write a blog or just enjoy reading them, it's a must-have.
So congratulations Pauly! You can now add the great Blogography Seal of Approval to your book... far more exclusive and valuable than Oprah's stupid book club!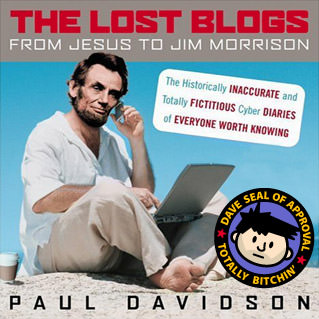 Now, if you'll excuse me, I'm off to have a cheese sandwich and a couple Hello Kitty Pop-Tarts before I pass out. I wouldn't want to have to blame Pauly for that too.