Most of my weekend has been spent working.
Ordinarily this wouldn't bother me, but now that good weather has arrived, I really want to pull my motorcycle out of storage. Problem is, it's going to take at least a day to rip her apart, de-winterize her, charge the battery, and clean her up. Unfortunately, I just don't have that kind of time to spare. So instead I worked, washed clothes, ate Pop-Tarts, drank Coke with Lime, and drew a "Pain Chart" for Belinda over at Ninja Poodles.
You see, during a recent visit to the ER for a migraine, Belinda was presented with this pain chart which has these goofy-looking green balloon-heads and says "If you are in pain, let your doctor or nurse know how bad your pain really is". I remember that they had something similar when I visited the ER with my kidney stones incident, but I was screaming so loud that I don't think they bothered to use it. This was surprising, because all the screaming didn't seem to motivate them into giving me any drugs until after an hour and twenty minutes had passed.
Anyway, here's the chart...
Belinda felt this was totally inadequate, and thought it would be better if I redrew it with Bad Monkey instead of a green balloon head. But since monkeys are screeching all the time and it's hard to know if they are in pain or not, I decided to use Cartoon Dave instead....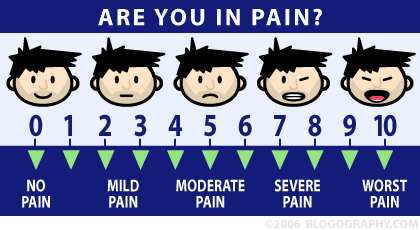 NO PAIN: The only time that I am feeling no pain is when I am drunk and happy. This is me being drunk and happy. You can tell that I am happy because I have a smile on my face. Likewise, you can tell I am drunk because I am smiling.
MILD PAIN: I am in "mild pain" all the time. This is what I look like all the time.
MODERATE PAIN: When I smash my finger or get a paper cut, it makes me unhappy. This is me being unhappy. You can tell that I am unhappy because I am making a frowny face.
SEVERE PAIN: I grit my teeth a lot when I am in severe pain, and usually my eye starts twitching as my face gets all scrunchy. The reason I grit my teeth is because it keeps me from saying curse words... well, it doesn't stop me completely, but at least when I say "szeet" and "fookh" people don't have the slightest idea what I am talking about. This is the face that I make when I see a Jarod Subway commercial, accidentally tune into FOX News, or have to watch David Caruso "act".
WORST PAIN: Yeah, when I get to this point I'm pretty much screaming my head off and yelling F#@%! as loud as I can. Fortunately, I've only been in this kind of pain three or four times. Let's see... there were the kidney stones, President Bush getting elected for a second term, President Bush getting elected for a first term, having my heart broken by a lying sadistic bitch, and watching Mariah Carrey in Glitter. Hmmm... I guess that's five.
After making the pain chart, it got me to wondering what other useful charts there should be...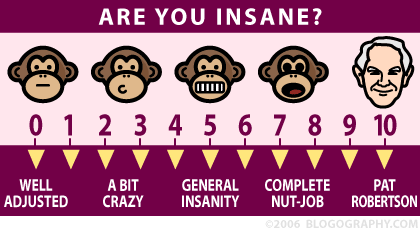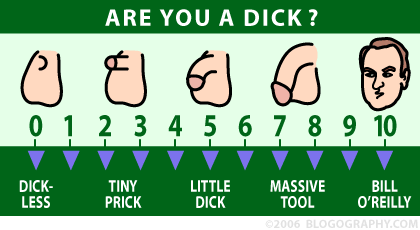 I was going to do an "Are You a Dumbass" chart, but that would have to be a big-ass chart to truly capture the many shades of dumbass that I run across on a daily basis.
Oh well. Back to work...