I am most assuredly jealous.
Everybody seems to have a book except me. Cavan has a book. James has a book. Pauly has a book. Bunches of other bloggers are working on books. Yet I have no book to call my own.
So I've decided to write a book.
At first I was going to write an autobiography. I am a fascinating guy with a fascinating life who has a story that simply must be told. But a book about my life would be at least 1600 pages and take years to write (and that's just Volume One!). I want something simple. Something desperately missing from society that I can easily construct. Something I can release quickly for the benefit of all mankind.
But what?
So here I am this morning, deleting a particularly vicious piece of hate-mail from my inbox, when it hits me. Everybody has heard of Dummies Books. But what about people who are stupider than dummies? Where are the books for them? There is a huge segment of the population with no book to tell them what to do... such as the moron who sent me the hate-mail for example. Where's his book? A Dummies Book would be way over his head, so I guess there isn't one.
At least until now...
Yes! When Dummies Books are just too smart, it's time for DUMBASSES BOOKS!
I can use my vast intellect to educate total dumbasses by using small words and lots and lots of pictures! Finally there will be guides for every day situations that some people are just too damn stupid to understand... like not driving in the passing lane and how to mind your bratty kids when taking them out in public...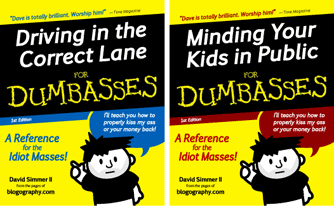 And what about all the dumbass politicians out there? They probably need these books more than anybody. Just look at how badly they keep f#@%ing up everything. That's why I'll be writing Dumbasses Books just for them! So now when your senator approves a bill that slashes health care so he can afford to vote himself a raise, there will be a book you can send so that he understands this makes him a complete tool. Dumbass books for dumbass politicians. A brilliant concept if there ever was one...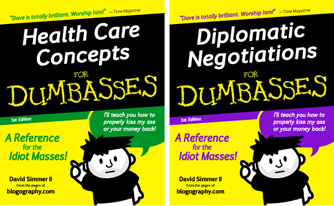 The possibilities are endless. I can think of hundreds of Dumbasses Books that are needed immediately, and I'm sure there are hundreds more that I haven't even thought of yet.
Sweet! These totally have "New York Times Best Seller" written all over them.