I don't feel good.
I woke up this morning and the room was spinning. It was like a hangover, but without the benefit of having gotten drunk the night before. I'm thinking that it might be that avian bird flu that's going 'round. I should have liked to stay in bed all day, but I have a quick trip to get ready for.
Before I leave town, it's customary to back-up my PowerBook just in case somebody should steal it. Now that I have my Mac Mini Server in place, it's a piece of cake. Enjoyable even. Then afterwards, just to be sure everything went okay, I randomly open some files. That's when this DaveToon came up...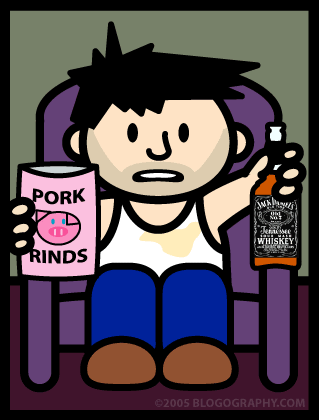 I had absolutely no recollection of drawing it or even if I had used it (yep, I had), but it's kind of ironic because this is exactly how I feel today.
If only I had that fifth of Jack Daniels to blame.