Is it a crime that I don't like Harry Potter?
I try to. Honestly I do... all my friends just love Harry Potter books and movies, so I want to like Harry Potter. But I just can't. I read the first book and found it kind of contrived and boring. The second Chamber of Secrets book was so deus ex machina that I only read half of it. I kind of liked the third Prisoner of Azkaban book, but it was still so predictable and unoriginal that I ended up skipping big chunks of it. I tried reading Goblet of Fire but only made it to the sixth chapter before giving up.
I thought that perhaps the Harry Potter movies would be my salvation, but I found them to be haphazard and somewhat incoherent. More flash than substance. I suppose if you were a fan of the books, you'd have the knowledge to fill in the blanks and enjoy the film adaptations... but that wasn't me. I ended up fast forwarding through most of them (and am I the only one that finds "Dobby" just as irritating as Jar Jar Binks?).
I guess Harry Potter just isn't in my destiny...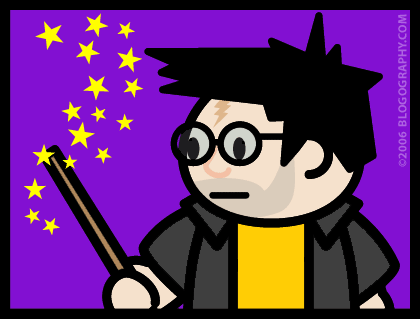 Which makes it incredibly difficult for me in social situations.
Like last night when I somehow got roped into this huge Harry Potter conversation with a group of people. There was a big debate over whether Snape is evil and something about a horcrux (which I had to Google to spell properly just now). Then they started talking about how Harry Potter was going to die. Then they transitioned into whether the movies would star all the same actors. It went on and on and on.
And the entire time I just stood there being incredibly stupid. I think the only thing I contributed to the entire conversation was how cool I thought that Alan Rickman was in Dogma and Galaxy Quest.
It used to be it was football trivia that made me feel inadequate. Now it's Hogwarts.
= Sob! =
I sure hope there's an Idiot's Guide to Harry Potter out there. Or maybe a CliffsNotes. Otherwise I'm going to be ostracized from civilization because I don't know what a horcrux is.