Tomorrow begins five days of "lost-blogging" for Kevin's "grassroots campaign" to promote Pauly's new The Lost Blogs book. Even though I've known about it for around two-and-a-half months now, I just haven't decided on which historical figure I was going to blog as. No matter who I thought might make a good choice for a "mystery game", I had no idea how to make it go on for five days. There's just too much to figure out and, if somebody guesses your pick on the first day, you're screwed. I had toyed with the idea of picking a new person for each day, but I don't think that's allowed by the rules.
I finally just wrote all nine of my candidates on slips of paper, put them in a cup, then picked one.
Who I ended up with doesn't surprise me as much as how I've decided to write for them.
This is either going to end up being a lot of fun (in which case I'll give myself a pat on the back for my ingenuity), or it's going to be a disaster of biblical proportions (in which case I'll blame Kevin). In any event, I'm very interested in seeing how everybody else is going to handle this challenge. Knowing how hard it is, I don't know that I can bring myself to post guesses on other "lost-blogger" sites in case I'm right.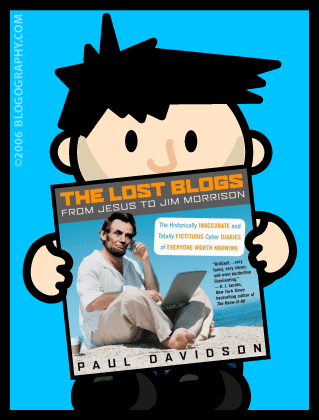 Back to the blogging front...
After almost two full days of trying to fix links that Movable Type has broken, I'm giving up. The problem is just too extensive to be repaired. Any entry that had its name changed, or whose name was duplicated... even YEARS APART... is now named something entirely different. This is really devastating to me, because I pride myself on not breaking links. I would go on another rant about how stupid it is that Movable Type makes no effort to warn you about such a serious KNOWN bug, but I'm too tired. So let me once again thank Six Apart for taking three years of hard work maintaining my links and flushing it down the toilet... I appreciate that.
The up-side is that I am in good company.
I was utterly shocked at how many outgoing links I have that are broken. Not only to other blogs, but to major companies like Sony, BMW, OreIda, and many others. At first I thought that these companies were stupid for not comprehending the importance of maintaining link history, but then I thought perhaps they run their sites on Movable Type and it's not their fault.
Links are what MAKE the internet. Doesn't anybody understand that?
I am almost to the point where I don't want to create another outbound link ever again. But what fun is that?