Response to Blogiversary III has, so far, been very different than I expected. But in a good way. I couldn't be happier, so thanks everybody!
IMPORTANT!: Leaving a comment does NOT enter you in any of the contests! You MUST send an email as mentioned in the entry instructions!
Anyway, I thought maybe a hundred people would vote for T-shirts... on the outside. I get large numbers of "unique visitors" to my home page on a daily basis, but only a small fraction of them leave comments or participate in Blogography stuff in any way. Well, this morning I awoke to a total which is rapidly approaching 300. If everybody who voted turns in their $10 coupon for a shirt, that's $3000 I've given away right there! Well, not really... I'd crap myself if I had to pay out $3000 in cash... it's far less than that, but still a very surprising response. I am most pleased!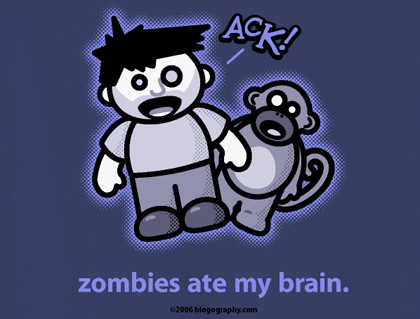 And yes, the "Zombies Ate My Brain" shirt is ahead in the voting by a fairly large margin. But, given the unexpected response, I might not wait a full year before offering another design. I guess I'll wait and see how many people actually end up turning in their coupon and getting a shirt.
The "READ with DAVE" giveaway reaction has been strange indeed. I created a quiz for everybody who hasn't left 10 comments and made it a requirement to enter the drawing. This was meant to reward those who contribute to my blog by allowing them to enter without the hassle. But here's the thing... most everyone (and I'm talking 80% or better) who isn't required to take the quiz is doing it anyway! Apparently, searching through my blog for answers to simple questions is big fun, and I wasn't expecting that. Yet only 72 people have entered. Part of the reason is because international readers don't want to pay shipping charges on a heavy box of books, but I think there is a fair amount of people who aren't entering simply because they don't want to take five minutes and search for quiz answers. Yet those who don't have to do it are doing it anyway? Interesting.
I get a lot of people who are writing notes to me in their email entries, and questioning whether or not I read them. The answer is yes... I read every single email entry I get! But with 350+ to sort through, I'm a bit behind just now. :-)
See you in an hour with today's new prize giveaway!