Ever since I read that Hello Kitty Pop-Tarts are being released over at Timothy's blog, I've wanted them. Days of searching at local grocery stores turned up nothing, and so I started telling everybody I know to help me look. My Hello-Kitty Pop-Tart search eventually involved a dozen people in four states. Finally, after I had reached suicidal-levels of despair that I would never find Hello Kitty Pop-Tarts, my mom found them at the local Fred Meyer (hey, you really do "find it at Freddies!").
Behold the grandeur that is Hello Kitty Pop-Tarts...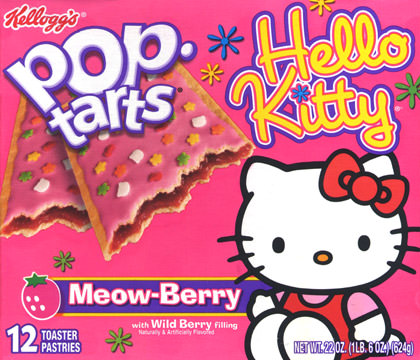 BACKGROUND: I've long held a fascination with Hello Kitty, but not in the way you are probably thinking (i.e., I don't have my bedroom decorated in Hello Kitty merchandise, nor do I wear Hello Kitty clothing). Nope, my obsession stems from two things: 1) My love of Japan from my travels there, and 2) The elegant simplicity that defines the "Hello Kitty Look". As you might guess, Hello Kitty was a big influence when creating my cartoon persona...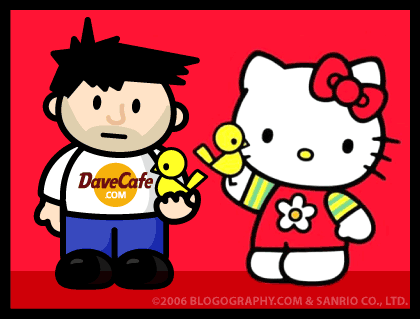 HISTORY: Hello Kitty was created in 1974 by Sanrio graphic designer Ikuko Shimizu as one in a line of several "characters" for the company. Her popularity eventually escalated her to near cult status, and she is easily one of the most well-known Japanese exports of the last couple of decades. Remaining popular both in Japan and abroad, Hello Kitty can be found on everything from toys and stationery to toilet paper and vibrators. There is some question as to whether Hello Kitty was inspired by Dutch cartoon icon "Miffy" (created 1955 by Dick Bruna), but most people have written this off as a coincidence.
ASSOCIATES: Hello Kitty is often found in the company of her many friends, including Cathy the bunny, Tim & Tammy the monkeys, Tippy the bear, and (ironically) her pet cat Charmmy Kitty. Hello Kitty's full name is "Kitty White", and she has a twin sister name "Mimmy".
PACKAGING: Hello Kitty "Meow-Berry" Pop-Tarts are made by Kelloggs, and is just one out of dozens of Pop-Tart flavors. They are sold in boxes of twelve and are conveniently foil-wrapped in six two-packs. They weigh-in at 22 ounces and you can buy a box for under $3.00. In addition to the front panel (shown above), there is also a game on the back...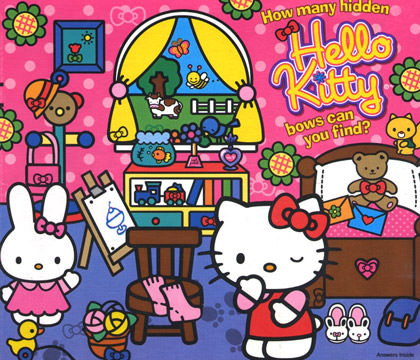 Colorful, and well-rendered in Hello Kitty Style, it's a search puzzle to locate as many bows as you can find. The answer is printed inside the carton, and I ended up missing two because they were so small or obscured as to be unrecognizable. Faithful to the Hello Kitty brand, and an eye-catcher on store shelves, I give the packaging an A-.
APPEARANCE: From the box, it appears that Hello Kitty Pop-Tarts are decorated in her signature pink color and sprinkled with miniature candies in the shape of Hello Kitty, bows, and flowers. The reality is a bit disappointing...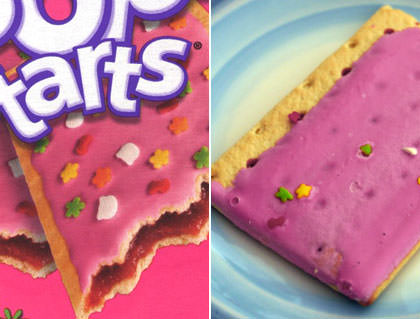 Instead of a festive pink frosting, it's kind of a purple-ish pink that's not very appetizing. Instead of the icing being neatly centered on the pastry, it was smeared off to one side. The generous assortment of candy sprinkles shown on the box were nothing more than a few scattered bits. In short, the product looked nothing like what I was expecting. If it had even remotely resembled what was on the box, I would have been much happier. But, alas, I give the actual product a D- for looks.
TASTE: Pop-Tarts are an acquired taste that not everybody enjoys. I happen to love them. My only criticism is that the pastry dough is dense and gummy when chewed... forming a kind of nasty paste. You have to be careful that you always have plenty of filling with each bite so that the crap pastry doesn't ruin your dining experience. The flavor advertised is "Meow-Berry" which is explained to be a "wild berry filling". Tasting it, I get a good sense of berry flavor, though trying to figure out which berries are in the mix is fairly difficult. I definitely taste strawberry... and probably some kind of raspberry or blackberry... perhaps a hint of blueberry... but nothing definite can be discerned. Overall I give the product a B for taste, considering we're talking about Pop-Tarts here.
OVERALL RATING: This product had such high potential, but really fell short in the appearance department. This is really bad news for a food item, and cuts the final score down to a C+. If Kelloggs could find a way to improve the look of Hello Kitty Pop-Tarts, they'd jump to a B+ or A- easy. Overall, I am giving them a cautious recommendation. If you like Pop-Tarts, these are worth a try. If you don't like Pop-Tarts, the Hello Kitty Meow-Berry variety will not change your mind.