I finally got a response from PayPal regarding my request for any actual evidence that a shirt payment was, in fact, unauthorized.... "We are not able to disclose any information for an ongoing investigation, Please help us with our investigation by responding to any question we have so we can verify that you are covered for the transactions."
Uhhhh, why are you not able to give me any information? Who's stopping you? I'm not asking for account numbers or any sensitive stuff... just a copy of notice that caused you to reverse the transaction so I can verify it with the bank. Since you are holding ME accountable for this shit, isn't that the very least you can do?
This is great. PayPal can take your money without any explanation. When you ask for an explanation, they won't give you one. Not only that, but they won't tell me if I will get the money back if the charge is found to be authorized. As far as I know, they will be keeping my money no matter what happens.
PayPal has got to be one of the biggest scams ever.
Since they will provide me with no proof, no evidence, and no information... I am just supposed to take their word for it that there is a problem? Well, I'm sorry, but if you won't tell me anything I have no choice but to look at this as theft. PayPal has stolen money from my account.
You steal from me mutha-f#@%er, and you had better run.
Do not make me fly down to San Jose and collect my $12.90. Trust me when I say that you do not want that.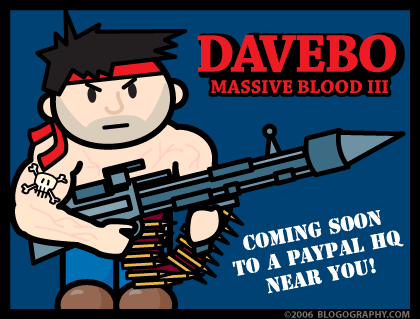 I have been spending my PayPal money as fast as I can before they steal any more of it. Who knows... they might suddenly decide that ALL of my transactions have "possible problems."
What assholes.
Given all the outrageous shit that they do to people on a regular basis, why aren't they under investigation for fraud?
If you have a PayPal account, you might want to start looking for alternatives. This is a very scary company.