As a big fan of the original graphic novel by Alan Moore and David Lloyd, I was very nervous about V for Vendetta being turned into a movie. After all, Moore's previous works League of Extraordinary Gentlemen and From Hell were positively butchered in the translation to film, and the odds of V bucking this trend seemed unlikely.
As it turned out, the result wasn't half bad. Sure several characters and events were changed, but I think the Wachowski Brothers did capture a bit of what made the original story so great...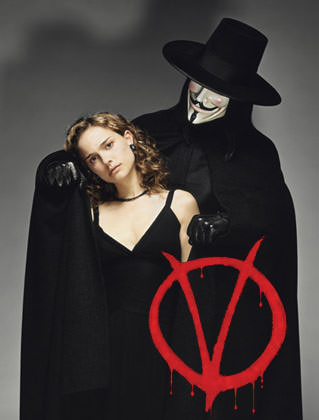 The problem is that the context of the book when I first read it fifteen years ago was very different than now. Back then, the Orwellian world in the story echoed a possible future... today it seems to be a likely future. Because of that, the movie seems like a clumsy attempt at socio-political commentary instead of the elegant revelation it was when Moore wrote it.
In any event, this tale of an oppressed future society and its masked terrorist liberator is still worth a look as a film or, better yet, even more amazing if read from the book as it was originally intended.
Then you can be V too...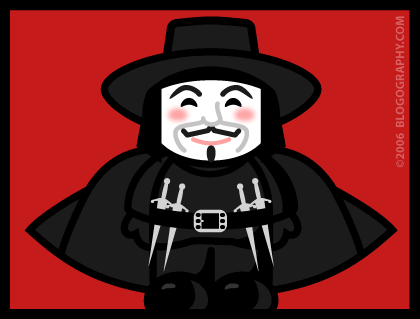 ...and understand why the ending of the book is SO much cooler than what's in the movie.