Since our poor planet has entered such a horrifying state of affairs, I have decided to trade-up.
Instead of wasting time in this violent, polluted, hateful place... I will instead be spending the rest of my days surrounded by beautiful scenery and wonderful sights. A world of opportunity and adventure. A land where I won't have to worry about getting knifed on my way to work or having my car shot up. A country where the people are kind, decent, and hard working...
...well, not actual people, but animals that kind of act like people. Kind of.
I am talking, of course, about the world of Animal Crossing inside my Nintendo DS...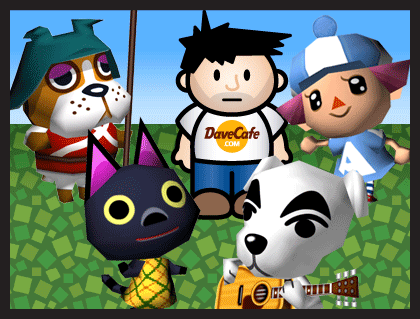 Animal Crossing is an awesome "life simulation" where you can work, explore, shop, make friends, grow fruit, go fishing, catch bugs, build a home, experiment with feng shui, celebrate holidays, collect furniture, patronize a museum, hunt for treasure, design clothes, create art, and all the other things that make life so great. All tax and disease-free!
I am seriously addicted, even though I don't have much time to play it. But that's okay, because even when I'm not playing, I'm thinking about it. Right now I have my heart set on earning enough money to expand my house so I can decorate it with pirate furniture and some cool skull-and-crossbones wallpaper I made.
It' a fun place to waste time. And nice to look at too, thanks to the sweet graphics...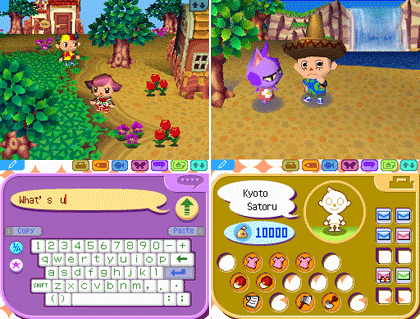 Probably the coolest thing about the game is that it is wi-fi enabled so you can invite people to your town over the internet. That way, they can come take a look at what you've done, and even trade stuff or give gifts! For example, my town had all pear trees... but thanks to somebody playing in New Jersey who visited me, I was able to trade for some peaches, plant them, and so now I have peach trees growing as well. Now I need to find somebody who has apples, oranges, coconuts, and cherries so I can add a little variety to the landscape.
If you have a Nintendo DS, it's a game well worth picking up. To learn more about Animal Crossing, you can visit the Official Nintendo Site, Animal Crossing Ahead, or Animal Crossing Community.
Now, if you'll excuse me, I've decided to blow-off work today so I can go hunt for buried treasure!