The fact that I am vegetarian is a source of curiosity for many people. I suppose this is mostly because I am not a "militant" vegetarian who is hell-bent on making everybody else a vegetarian too. It's a choice I made for myself, and I don't force my dietary habits on other people. Since many vegetarians do feel the need to preach their views, this makes me a bit of an anomaly.
I first flirted with vegetarianism 20 years ago as a New Year's resolution in 1986. I only really liked hamburgers, bacon and pepperoni growing up anyway, and so it seemed like an easy step to take. Unfortunately, the local burger joints kept tempting me back to the life of a carnivore, and I never made it more than three months at a time. Come Thanksgiving, I had given up completely, because I wanted a slice of dead turkey pretty bad.
Fast-forward a year-and-a-half. I was dating a girl who was a vegetarian. She was very vocal about animal rights, and made compelling arguments against eating animals. After a couple weeks of pestering, I finally kicked the meat habit on Earth Day, March 1988, because my girlfriend promised to make it worth my while. And while she lived up to her promise, we only lasted another couple weeks before breaking up.
But the diet has stuck ever since.
Part of it is for health reasons, but mostly it's because I can't make the leap from this...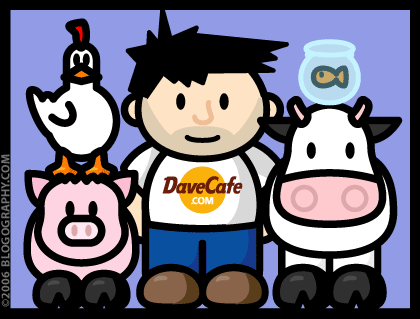 To this...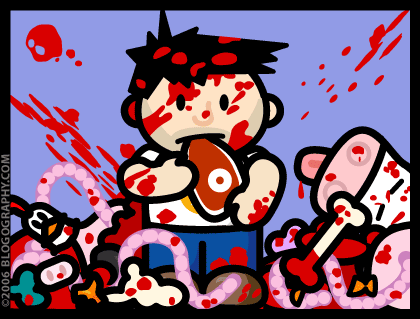 And I have to wonder how many other people would continue to eat meat if they had to slaughter it themselves. It's easy to become detached from where meat really comes from when it comes so nicely packaged at the supermarket. I also wonder if people would be willing to pay the price to eat meat if the US government were to stop subsidizing the industry. Without billions in taxpayer dollars, a hamburger would cost around $14.00... would people be willing to pay it when suddenly a veggie burger was so cheap by comparison?
Anyway, vegetarianism fits neatly into my Buddhist way of thinking, so I am quite happy to stay the course. And while I am (unfortunately) still eating unfertilized eggs, milk, cheese, and other dairy, I can safely say that I won't be eating meat ever again. I seem to be much healthier because of it, and am happy to contribute to a diet that's not destroying the planet.
So while I don't begrudge people who choose to eat dead animals, eating less meat or becoming a vegetarian is easier than ever. Why not give meat-free options a chance next time you're at the grocery store or eating at a restaurant... you might be surprised.
On the other hand... boy do I miss pepperoni pizza.