I f#@%ing hate jury duty.
Mostly because I get summoned more than anybody I know. The last time I was called was just a little over two years ago. Meanwhile, there are people I know who have never been called, or been called only once or twice. And, as if it weren't enough that jury summons are so unfairly distributed, the entire system is so stupid, that even if I desired to serve, I would never want to go through the shit they put you through.
First of all, your period of potential service is TWO WEEKS. And since I don't even get to take that much VACATION each year, having to block-out my time for something so lame as jury duty really chaps my ass. I summed it up pretty well the last time I got summoned...
What the f#@%?? Excuse me, but apparently the Washington State Justice System has me confused with some loser that has nothing better to do than wait by the phone while they try to find some criminal that needs hanging. I realize that Washington has one of the highest unemployment rates in the nation, but unless you want me to lose my job and become another unemployment statistic, you'd better re-think things. Do you really expect people to put their lives on hold for TWO WEEKS why you make up your mind as to whether I am going to be called in with only one day's notice? How am I supposed to plan for that? This isn't Little House on the F#@%ing Prairie where people had nothing to do...
Second of all, no excuse is good enough for the dumbass judges that determine if you can be excused. One year, I had to call in to be released because I was going to be studying for final exams at college. The judge yelled at me for five solid minutes and then chastised me for avoiding my "civic duty". The next year I received another summons that landed in the middle of a trip to Europe. Rather than get yelled at by some ass-wipe judge, I actually changed my travel plans.
Lastly, the results of serving on a jury are always unsatisfying. My last term on jury duty had all of us believing that the guy on trial was probably guilty, but we were forced to proclaim him "not guilty" because of gross incompetence by the prosecution. A total waste of my time (not to mention taxpayer dollars).
So you can imagine my reaction when I checked my mail this morning and saw this...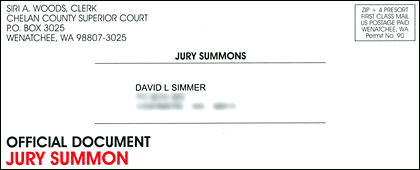 What could possibly be worse? Let's turn it over and see...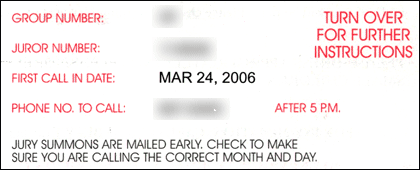 That's right, my first call-in lands on my birthday!
Awww, you shouldn't have!
Seriously, you shouldn't have. I will probably still be drunk when my term starts on the 27th.
I wonder if they'll let me play with my Nintendo during the trial?