I honestly try not to repeat myself whenever it comes time to write something new... but every once in a while, I just can't help it.
Such is the case with the idiot in Louisiana who is suing Apple because "listening to an iPod with the volume too loud can cause hearing loss". I've already ranted about it, but the story keeps coming up in the news and, every time it does, I just keep getting more and more furious. The fact that somebody can sue over something so incredibly stupid causes my blood to boil, and I cannot let it go. I want very badly to bitch-slap somebody, but society has made stupid shit like this acceptable, so what can you do? I mean, if a woman can be awarded millions of dollars because she wasn't careful with a scalding-hot cup of coffee, then nothing surprises me.
Pretty soon, everything is going to be plastered with disclaimers and those little "NO" illustrations, which I like to call "DUMBASS PROTECTION". You know, those little pictures with the slash through them that you see everywhere...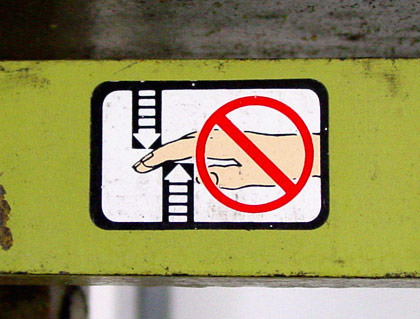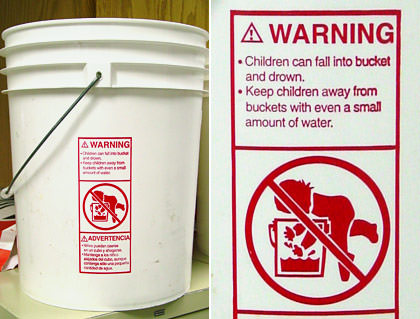 And why stop there? I mean, if you don't know any better than to not play the volume on your iPod too loud... then other sublimely obvious crap is going to need Dumbass Protection as well...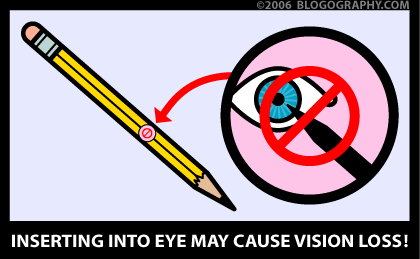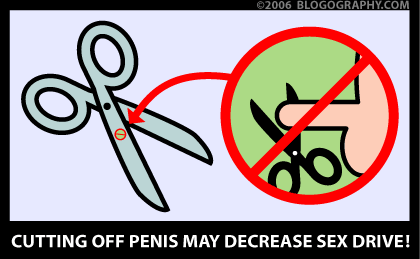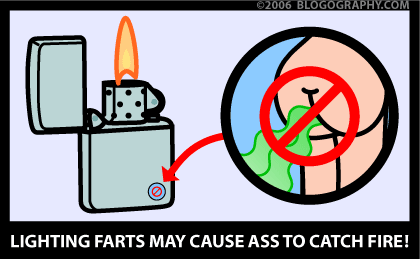 And the list goes on and on.
Just take a look around the room you're in, select an item, come up with something insanely stupid to do with it that might result in injury, then SUE LIKE A MUTHA-F#@%A!! Apparently, it's the American way: baseball, apple pie, and frivolous lawsuits.
Now, if you'll excuse me, I have legal proceedings to file against Ticonderoga, Fiskars, and Zippo. Blogography: Your class-action lawsuit clearing house!
BLOGOGRAPHY FLASHBACK ENTRY: All-American Booty Call
BLOGDATE: July 4, 2003

In which Dave questions how 6 grams of fat on some daft bitch's ass could possibly be worth fifty million dollars.
Click here to go back in time...