It was a beautiful day.
At least it started that way.
When I left for Seattle the air was crisp and there wasn't a cloud in the sky. I was marveling in all of creation as I drove Highway 2, being careful not to tailgate the truck ahead of me...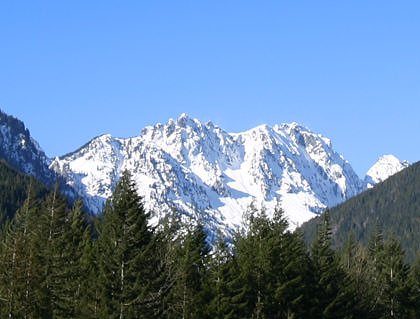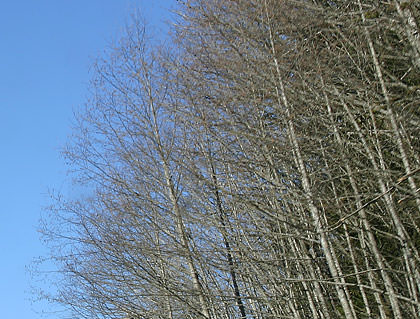 And then 10 minutes later I was pulled over by the Highway Patrol.
At first I thought he was after somebody else, and so I pulled over to let him pass.
But he didn't pass. He decided to pull me over for going 64 in a 60mph zone. I know, because I looked to make sure the needle was under the 65 mark, and it was.
The ensuing conversation went like this...
Johnny Law: YOU WERE SPEEDING!!

Dave: Sorry... I was just following the car ahead of me and didn't notice I was over.

Johnny Law: I DIDN'T STOP YOU TO ARGUE!!! I PULLED YOU OVER BECAUSE YOU WERE SPEEDING. I DON'T CARE IF YOU ARE FOLLOWING ONE CAR OR A HUNDRED CARS!!!!!

Dave: Uhhh... okay...
After that, I just shut the f#@% up, because obviously the man had it in for me. He claimed I was going 66 (which I'm fairly certain I wasn't)... but even so, that's within 10% of the limit, and hardly a grievous offense that was worth being pulled over for (let alone being yelled at). I mean, shit! Give me a break... would you rather people keep their eyes on the road and occasionally check their speed... or just stare at the f#@%ing speedometer and ignore everything else? Minor pops over the limit are bound to happen, even with the best drivers... ESPECIALLY with the best drivers.
What I don't get is that I was following five other cars... IN THE SLOW LANE!! Why me?? Did somebody spray-paint "F#@% ALL COPS" on the side of my car? I mean, it's not like I was blowing past everybody going 70 in the passing lane, so WTF?!?
The guy let me off with a written warning, so I guess he wasn't so bad after all... but whatever. If he would have ticketed me, I would have actually showed up in court with my flawless driving record to fight that one.
After dropping my car off at the dealership, the rest of my day went something like this...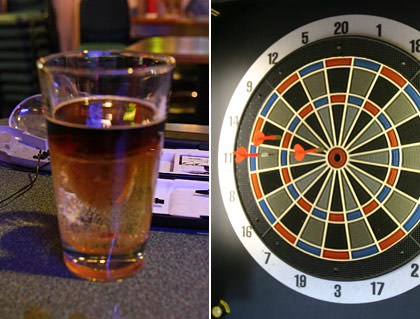 That's Jäger Bomber #6, after which I was cut-off.
At least until the shift change when I was able to get two more from our new and improved waitress. It was at this time my friend noted that one's ability to play darts well is tied to alcohol consumption along a sine-wave curve. Sure enough, this seems to be true... at least until you start to descend the back-side...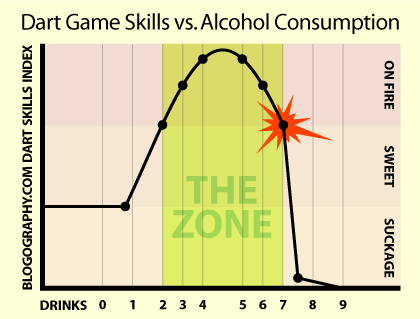 It would appear to go like this...
As you are just completing that first drink, your skills start to improve. Right after you finish drink #2, you enter "THE ZONE" where your mad dart skills are on fire. Things just keep getting better after drinks #3 and #4. At that point, you inevitably put your drinking on pause for just a bit, so you can ride that "dart high" of being able to totally kill at the game. But then you start to lose your edge and have to drink #5 and #6 to maximize your "ZONE" hang-time. Right around drink #7 is when things start to go terribly wrong. You don't just leave "THE ZONE", you plummet out of it... no longer are you "on fire" but you bypass the "sweet" phase and drop directly down to "suckage".
At that point, all you can do is leave the bar, then go back to your friend's house and start queuing up a few more Jäger Bombers to finish out the evening.
Naturally, when you drink twelve shots of Jägermeister dropped in glasses of Red Bull Energy Drink throughout day, getting to sleep is something that proves to be a bit of a challenge (but somewhat less critical than not puking your guts out). It was a rough night, but I did forget all about being pulled over by the cops so I guess it's all relative.
Life is hardest when it's self-inflicted.