A couple of days ago I wrote about the government requesting that Google release their search records. Ever since then, I've been addicted to the stats page which shows the keyword searches people are using to find Blogography. Sure I've looked before, but now I'm seeing them in an entirely different light. What if the people requesting some of these wacky searches were tracked by the government? Scary.
And if these freaky-ass searches are finding my blog, what in the heck does that say about me?
As it turns out, it's not always my fault. When you combine a bunch of unrelated entries into monthly archives, suddenly a word from June 7th combines with a word from June 13th and a word from June 20th to create something truly disturbing. What was once an innocent separation of words on different days has suddenly been Googlized into something naughty.
And while that's true most of the time, it's not true all of the time.
Searches for things like "penis salad" I have no excuse for.
But hey, here's a question... WHO IN THE HECK DOES A GOOGLE SEARCH FOR "PENIS SALAD"?? What could they possibly be hoping to find? I made it up as a joke... are these people serious?!? And it's not like it was only a one time thing... I've been hit by that search 11 times this month. ELEVEN PEOPLE WERE LOOKING FOR "PENIS SALAD"! WTF? Over half of them are from the U.K., so perhaps it's a British slang term that I am unfamiliar with?
Anyway, for the moment at least, Blogography is the #1 hit in both text and images. I did a screen capture to preserve this moment forever...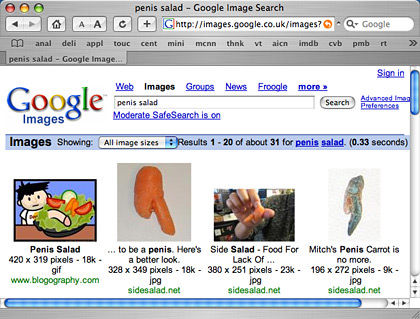 And there it is. My proudest moment as a blogger. Out of 701,000 results for "penis salad", I'm #1 on Google. How cool is that? I might as well close up shop and move on to other challenges. I've climbed my Everest. There's nowhere else for me to go with Blogography now. It's all downhill from here.
And, on that note, I should mention that I've passed 5000 comments from brilliant readers such as yourself!
On January 23rd at 6:28pm, "Used Hack" hit the magic number, and has won a pair of quality T-shirts of his choice from the Artificial Duck Store PLUS a gift certificate for $20 from either the iTunes Music Store or Amazon.com, whichever he likes best! It's a prize valued at $43.85, so congratulations Hack!
Comments are cool, and this blog wouldn't be half as much fun without them. I should have comment prizes more often.
And lastly, did anybody see Betty White's masterful performance last night on Boston Legal? Betty with a gun kicks ass!
BLOGOGRAPHY FLASHBACK ENTRY: Bleh
BLOGDATE: February 7, 2004

In which Dave finds Betty White in his mailbox and contemplates life without clean underwear.
Click here to go back in time...