For those of you not lucky enough to be at MacWorld for Steve Jobs' keynote presentation... no worries, Blogography has you covered! I'll be regularly updating this page as events unfold.

His Royal Steveness takes the stage. All bow before his greatness!
Recapping the astounding success of iTunes and the iPod... 850 million songs sold!
Apple is moving deeper and deeper into consumer space... not just computers anymore.
First iPod brings the Apple Experience™ to your music, now there's something NEW! "Usually we save the big announcements for the end of the keynote" - but Steve just can't wait!
"ALL aspects of daily life could benefit from Apple's ingenuity, and we're going to see the beginning of that starting today".
"What's something everybody does every day that Apple can make better?" Steve asked his team. "TOAST!"
OMG!! STEVE JUST DEBUTED THE iTOAST TOASTER!!
Crowd going nuts. I can't get a photo, so I'll draw up a quick sketch...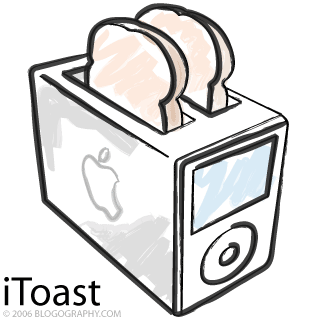 Steve is making toast now!
iToast features wireless connectivity over Airport Extreme wireless networks.
"What's the most frustrating thing about making toast?" Steve asks... "Different breads toast differently... burnt toast sucks!"
Apple has a bread database... iToast analyzes your bread and accesses the database over wireless for proper toaster settings. Database has over 2000 types of bread with new brands being added daily! Weekly email newsletter tells iToast users what new breads have been added... "iToast Wednesdays!" Domestic breads available now... international breads online in March.
Steve introduces the presidents of Wonder Bread and Orowheat... "We're proud to partner with Apple and iToast."
"Finally our breads will be perfectly toasted every time... it's an end to burnt toast!"
"A new cooperation amongst bread bakers will bring about bread peace in the industry."
Steve's toast has popped up. Perfectly toasted... even toasting over the entire slice on both sides!
"But there's more!"
OMFG!! iToast has built in iPod functionality! Listen to music while you wait for your toast! Brilliant!!
Here come the specs: Multi-wave laser beam toasting. "Quick Toast" feature for fast toasting. Bagel setting... wide slots for big breads. HOLDS 10,000 SONGS!!! Bose Acoustic Wave™ stereo speakers inside. Apple Bread Database access included... no monthly fee. Bread database distributed over Akamai... NO LAG TIME! INSTANT TOAST SETTINGS RETRIEVAL!! All of this for just $99!
"One more thing..." UNBELIEVABLE!!! iTOAST ALSO PLAYS VIDEO!! F#@%ING WATCH VIDEO WHILE YOU WAIT FOR YOUR TOAST!!
"Purchase music and video content direct from iToast... no computer required!" Can share purchases with your Mac or PC and transfer to iPod... automatically syncs with iPod so you can continue with the video as you leave the house... exactly where you left off!
Time for a demonstration!
"Let's say you and your husband/wife/life-partner enjoy different kinds of bread for your toast. With iToast, each slot has SEPARATE SENSORS! You can toast a bagel in one slot and a slice of rye in the other... iToast automatically adjusts each slot! iToast knows to only toast bagel on one side thanks to Apple Toast Database!"
Uh oh...
Whoops! Demo has gone awry... flames shooting out of the top of iToast!!!
Firefighters have to come on stage to extinguish iToast.
"Well, obviously there are some bugs to work out before we ship!"
"iToast ships next week!!"
"I'd like to bring the entire iToast team on stage for a round of applause!"
HOLY SHIT!! STEVE JOBS HAS AN AUTOMATIC RIFLE!!!
STEVE JOBS IS SHOOTING THE ENTIRE iTOAST TEAM!!! OH THE HUMANITY!!
"NOBODY F#@%ING EMBARRASSES STEVE JOBS LIKE THIS! N-O-B-O-D-Y!!!"
"You are all FIRED... bwah ha ha HA HAAAAHHH!"
I think the iToast team is all dead.
Steve has gone crazy. People are running out of Moscone screaming. The blood is everywhere!
Steve has left the building.
No... Steve is ON TOP OF the building... he seems to be raising a pirate flag! Pirates are so cool!!
The crowd agrees... everybody is chanting "STEVE! STEVE! STEVE! STEVE!"
Hmmm... I guess this means the keynote is over.
I must say, this was one of the most exciting SteveNotes ever, and I can't wait to get me an iToast!
Thanks for tuning in to Blogography's MacWorld SteveNote coverage! See you next year.
TWILIGHT ZONE UPDATE! I am just now watching the MacWorld streaming keynote, and have gotten to the part where his Steveness is making his own podcast in Garage Band. And what does he add to the video portion? An iPod toaster! I just know that Apple Legal is going to be sending me a cease and desist any minute now...