After watching Project Catwalk six times... I can honestly say that it is the best show to ever appear on television.
Well done Sky One. Well done.
Granted, I only watched the parts which had Elizabeth Hurley in them and fast-forwarded through the rest... but that's all you really need to see anyway.
It was after my fifth time of running a frame-by-frame analysis that I managed to narrow down the 1,216 stills of Liz perfection down to the top ten seen below (just ignore the freaky-ass bitch standing next to her in photo #3)...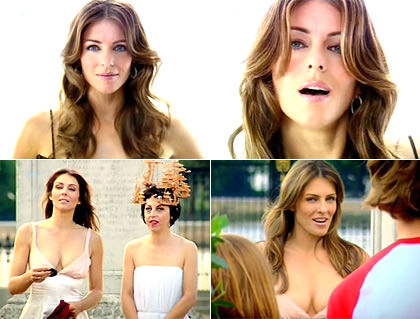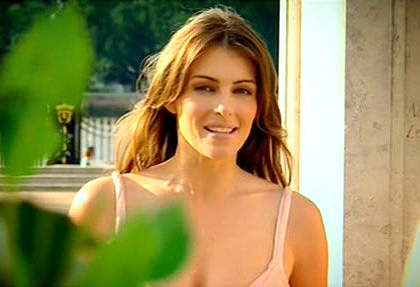 Sweet!
And the best part? EIGHT EPISODES LEFT TO GO!
Oh, and before I forget, there is a small difference in Project Catwalk from the American Project Runway version. It turns out that even if Elizabeth Hurley wasn't hosting, the British show would still be superior...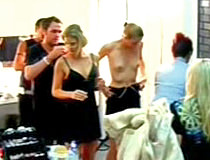 Boobies! What a pity that tight-ass American television censors faint at the sign of breasts. In the one episode I've seen of Project Runway here in the States, they felt the need to pixelate the naughty bits which is just... wrong.
Sigh. Elizabeth Hurley should host all the shows on television.
BLOGOGRAPHY FLASHBACK ENTRY: Meme
BLOGDATE: June 22, 2004

In which Dave answers a bunch of questions and figures out the perfect way to iron his shirts.
Click here to go back in time...