Nothing is happening. Nothing at all. Must be time for that "What are you looking forward to" meme?
Today: I am looking forward to breakfast right now because I'm hungry. I think it will be Peanut Butter Captain Crunch and some toast.
Tomorrow: NEW VERONICA MARS!! Finally.
This week: I read the original short story Brokeback Mountain and found it to be slow, boring, and pointless. I had no intention of seeing a slow, boring, pointless film based on it, but everybody and they're dog is telling me that I simply must see it, so I am going to do that later this week. I'm kind of looking forward to it.
Next week: After watching James Lipton kiss Elton John's ass for two hours straight on Inside The Actors Studio, I was a bit shocked to see that next week's guest is Dave Chappelle. The interesting bit is that Lipton somehow mustered the balls to ask Dave about his freak-out retreat to Africa in the middle of filming the third season of Chappelle's Show. I will definitely be looking forward to that.
This month: The months almost over, so I guess I am looking forward to the month being over.
Next month: A good friend whom I haven't seen in a very long time will be in town next month. Sadly, she's only around for a few days, but I am absolutely looking forward to seeing her.
This year: Believe it or not, I am looking forward to the release of Windows Vista. I know, I know... I'm a Microsoft-loathing Mac whore, so why would I even care? Because I am tired of having to work with Windows as it currently exists. Windows is a bug-ridden, virus-laden pile of crap that I've found to be faulty and unreliable. And since Vista is supposed to fix so many of the problems I have with the OS, I can only assume that it will be easier for me to deal with. That's a good thing. It would be nice to work on a Windows machine and not have to be screaming the entire time. It would also be nice for Apple to have some renewed competition so they continue to push ahead. So yes, I am looking forward to Vista, which I think is supposed to launch this year.
Next year: Futurama, my favorite animated show of all time, is coming back for a series of four feature-length, direct-to-DVD films. Bender is the most brilliant animated characters ever, and I've missed him terribly. Needless to say, I'm looking forward to that (much more than the news about the possible new Friends movies)...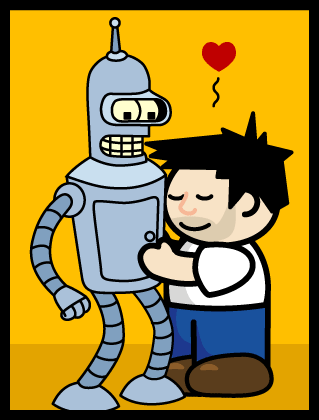 What? Is that it? I'm done? Okay then, I'm off to breakfast.
BLOGOGRAPHY FLASHBACK ENTRY: Dental
BLOGDATE: March 9, 2004

In which Dave is captured by the enemy and subjected to oral torture.
Click here to go back in time...