The blogosphere is abuzz with the story of how the government wants Google to hand over search records so they can see how often porn is returned in the search results. Apparently having this information will protect kids from internet porn, which is much like trying to protect orange juice from being the color orange. Of course Google is going to sometimes return porn in search results because 90% of the internet IS PORN! Oh well, it's not like we've got health care and unemployment problems to worry about. Watching people's kids so parents don't have to bother is so much more important.
But after the government gets a look at the porn we're searching for... what's next?
I worry that Homeland Security will start wanting Google search records next. Not because I have anything to hide, but because search records are not always what they seem.
For example. I LOATHE Jared Fogle the Subway Sandwich whore.
Every time I hear how Jared "inspires people to eat better and lose weight with Subway Sandwiches" I want him dead. Because all he really does is inspire sales of Subway Sandwiches from people too stupid to understand what a fraud he is. Do you know why he chose Subway when he decided to try and lose weight? Because it was next door to his apartment. It was convenient. It's not like he went out and did a bunch of restaurant research for his diet. He was a lazy turd that ate at Subway because it was closest to where he lived.
He could have had salads at McDonalds and lost weight. He could have had sandwiches at Quiznos and lost weight. He could have eaten ANYWHERE and lost weight if he made healthier menu choices. There is nothing magical about Subways... it was because he decided to stop eating mass quantities of high-fat foods that he lost the weight. I could go into Subway twice a day and order up a sandwich loaded with extra cheese and a bunch of sauces and mayonnaise and GAIN weight. But you won't see a commercial for that. Does it really take Jared the Subway whore to tell people that eating a veggie sandwich with no cheese instead of three Big Macs will make you lose weight? Well, DUH! It's just common sense! When are people going to realize that Jared is not this altruistic prophet here to help you... HE'S JUST A WHORE SELLING SANDWICHES FOR MONEY! It's his JOB.
So that's why when I see commercials with Jared comparing a veggie sandwich with no cheese to a Big Mac, and telling people that they should eat at Subways because it's so much healthier... I want him dead. Why not compare a veggie sandwich to an Arby's SALAD you stupid f#@%?
And because I loathe Jared so badly, much of my free time is spent fantasizing of ways the whore can die. Sometimes it's pretty basic... I just walk up to the dumbass with a gun and shoot him or something...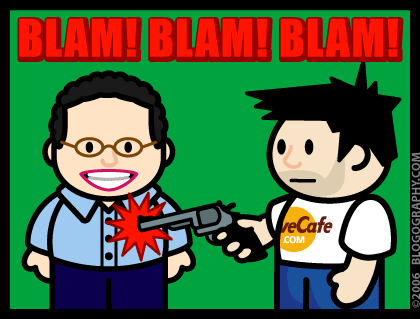 Jared says: "I am such a whore that even I hate me!"
But on days where he is really pissing me off (like he comes out with a new idiotic Subways commercial), just shooting him isn't good enough. I want something much more elaborate and painful.
And that takes a lot of Google research.
Because it's not like I know how much battery acid it takes to melt somebody's head... I have to Google it. And when I need to know if it's possible to drown somebody in low-fat mustard... I have to Google it. If I am curious as to how many volts it takes to electrocute somebody through their testicles... I have to Google it. All this stuff has to be researched.
And what happens if Homeland Security sees this stuff that I'm Googling, decides that I'm some kind of sadistic terrorist, and then ships me off to have MY testicles electrocuted??
That would be bad.
Not to mention grossly unfair, because getting rid of Jared is more like a public service than an act of terrorism.
Anyway, that's why I think that Google shouldn't have to hand over any records. It can only lead to innocent people like me being shocked in their balls.
And now, if you'll excuse me, I need to find out if low-fat turkey slices are still flammable once they've been shoved up somebody's ass.