I don't often look at my web stats because I just don't care how many people are reading my blog. But not so long ago I got an invitation to set up an account with "Google Analytics" for free, so I thought that I would give it a try. The preview showed that you get all kinds of pretty graphs and interesting numbers to look at, so why not?
Well, this morning I finally remembered to go take a look. Unfortunately, the charts and numbers don't mean a heck of a lot to me. I suppose if I gave a crap about this stuff, it would be totally awesome but, since I don't, it's boring. I'm just not seeing any data I'm actually interested in. For example, I still don't know why the hate-mails I get usually arrive on the weekend. Nope, instead all I get to see are things like where my visitors come from on a big map...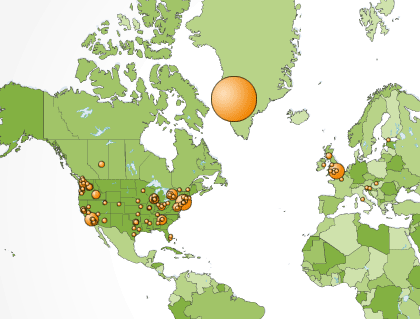 Blogography: Big in Kangerlussuaq, Greenland
So I decided to write my own analytics software. I call it "Blogography Anal". It's a funky piece of engineering that gives you information you can actually use.* Just export your Google Analytics stats, then drop them into the program and press start.
In trying to get to the root of my hate-mail question, I first ran the data through Blogography Anal's "Visitification Index" to see how many people are visiting and whether or not I should be happy about it. The results look like this...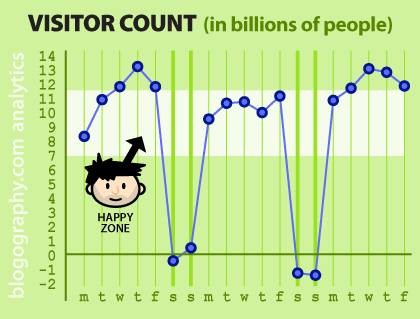 I find it interesting how traffic remains fairly steady throughout the week, but always plummets on the weekends. I guess people have better things to do than surf this sorry-ass blog on their day off? Can't say I blame them. Though I do shudder to think of the number of lost job-hours I am personally responsible for because billions of people are reading Blogography instead of working.
But if visitor counts drop so substantially on weekends, why is this when I get the most nasty emails and rude comments? I decided to rerun the stats, but this time use Blogography Anal's "Assholification Index" to see what happens...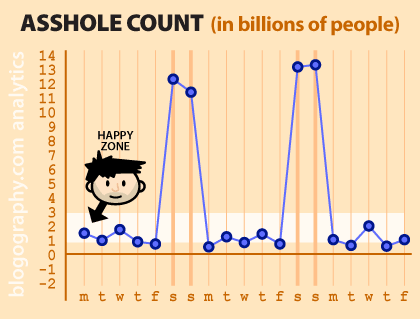 Ah ha! Even though my visitor counts drop significantly on the weekends, it turns out that the number of assholes stopping by shoots to over eleven billion! Last Sunday there were 13.4 billion assholes alone.
And this is a problem. My "happy zone" for asshole visitors is between one and three billion a day. Any less than a billion, and you just aren't trying hard enough. Any more than three billion, and the odds are you'll start getting emails bitching about something you've said that week.
Since this is Sunday, I guess it means there is a 96.4% chance that the person reading this right now is an asshole.
Well, not YOU... I would never think of YOU as an asshole. I just love YOU.
So it begs the question: why in the heck do I bother to write in my blog on the weekends?
If visitor counts drop, and all I am going to get for my trouble is a bunch of assholes hanging around... why do it? I just don't know. Perhaps if I stopped writing on the weekend, I wouldn't feel like starting up again on Monday? Or maybe the people who count on Blogography to brighten up their Monday work-day would be pissed if they didn't have a couple of fresh entries to read before their boss arrives?
I guess there are questions that even Google Analytics and Blogography Anal can't answer.
* Please note that the accuracy of my calculations is plus-or-minus twenty-six billion.**
** Hey, I'm an artist, not a mathematician.***
*** Oh don't give me that look! Writing software is hard... let's see YOUR stats package.