Despite desperately needing to go into work today, I decided to stay at home and clean up the six months of neglect that has been accumulating.
It's pretty terrible. I've already managed to haul out five giant bags of garbage, and will undoubtedly haul out another five before the day is over. I have no idea how I manage to accumulate so much crap, but it's everywhere. Piled in the closet, stacked in corners, covering my desk... and all the stuff that I don't throw away has to be organized somehow.
Out of all of it, it's the photographs that bother me the most. Everything before 2001 is a hopeless mess, scattered around in dozens of boxes. Even if I took the time to organize and label my photos, it's still inconvenient to access them. Unlike everything from 2001 onwards, which was shot digitally, and is neatly indexed in iPhoto...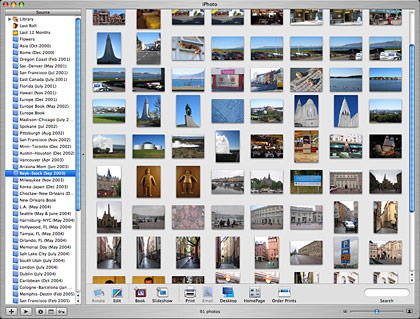 So now I'm faced with either having to buy a high-quality scanner and manually converting everything to digital... or paying a company to do it for me. The cost is about equal. But if I buy a scanner then I've got to do all the work myself, and that takes a lot of time I don't have. Oh well... it's not like I'd have a lot of use for the scanner afterwards anyway.
Wow. Some of these photos are kind of embarrassing. If I send them off to be scanned, I wonder what the chances are that they'll end up on the internet somewhere?