It's raining out.
Which kind of sucks, because now the ice-covered streets are going to be impossibly slippery. And, with all the people out traveling for the holiday, it's bound to be ugly on the roads tonight. Mostly because so many drivers are total idiots. It makes me sad to think that somebody's present on Christmas Eve is going to be a loved-one who is either seriously hurt or dead.
Ho ho ho.
Perhaps I can cheer myself up by not thinking about traffic accidents and finding out what's happening with Lego Dave.
So here it is... the twenty-fourth and final episode of "A Very Lego Holiday Tale" for your reading pleasure.
CHAPTER 24: It's a Holly Jolly Finale.
LEGO ADVENT CALENDAR TOY OF THE DAY: Santa Claus with Sled & Sled Dog.

Lego Dave has finally avenged Barky the Dog's death! But Lego Buzz Junior has shown up, FLOATING IN AIR WITH GLOWING GREEN EYES, and things have suddenly gone terribly wrong...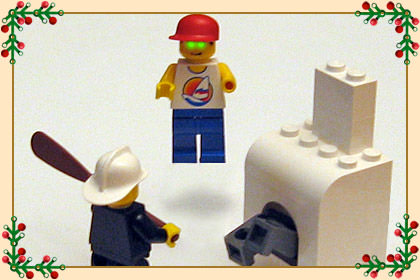 "Uhhh... why are you floating in the air Lego Buzz Junior?!?" queries Lego Dave, his mind not quite grasping the idea of flying people.
"I'm the Antichrist" Lego Buzz Junior says matter-of-factly. "Can I have my hand back now?"
"Er... uh, your hand?" Lego Dave utters in disbelief.
"Yes. The one you cut off a few minutes ago." Lego Buzz Jr. says calmly. "It would be easier if you gave it to me before I kill you so I don't have to go mucking about looking for it."
"Oooh. I seem to have misplaced it. But I think it must be around here somewhere..." replies Lego Dave.
"Wrong answer!" bellows Lego Buzz Junior, as green flame fires from his eyes, knocking Lego Dave to the ground.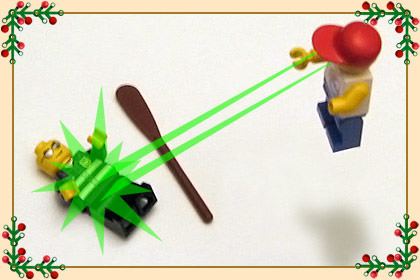 "Hey, that hurts!" cries Lego Dave.
"Yes, well, if you think that hurts... having your head blasted off is sooooo much worse." Lego Buzz Junior says as his eyes erupt in a hellish green light. "Goodbye forever Lego Dave!"

But, before Lego Buzz Junior can strike the lethal blow, a red blur comes ripping through the sky, impaling the psychopathic devil-spawn from behind. His eyes gone dark, Lego Buzz Junior falls from the sky, crashing to the ground with a scary-sounding thud.

"Superman? Is that you?" says Lego Dave, still groggy from the blast.
"Ho ho ho!" replies a blurry red fat man as he descends in a blurry sleigh."
"Santa?" Lego Dave says in surprise.
"Bark! Bark!" is the reply.
"BARKY?!?" Lego Dave cries as he climbs to his feet, his vision starting to clear. "BARKY! But how can this be? You were dead!"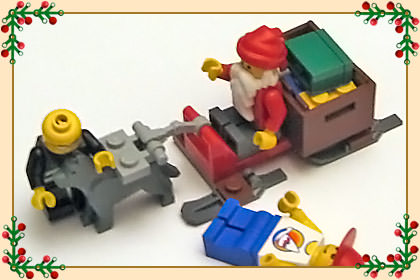 "Oh, Barky the Dog was never dead!" says Santa. "I found him wandering the streets looking for you!"
"But... but... I saw him in the drill press!" Lego Dave says as he wraps his arms around his best friend.
"Ho ho ho! That wasn't Barky!" laughs Santa. "That was Barky's evil clone Snarky!"
"Evil? Evil clone you say?" responds Lego Dave.
"Sure!" says Santa. "Lego Buzz Junior used his demon powers to clone Barky so he could have a dog of his own. Lego Buzz got confused and drilled the wrong dog."
"Cool!" Lego Dave exclaims! "Barky, I'm so happy you aren't dead!"
"Bark! Bark!" replies Barky happily.

And just then, the battered figure of Lego Buzz Junior starts to stir...

"Oooohhh... my head" he says.
"Gah! What's going to happen to him?" shouts Lego Dave. "He's a very, very bad little boy!"
"Oh, don't worry about him!" Santa replies. "I'm sending the little terror back to hell!"

Then Santa raised his hands and starting chanting to the dark lords to reclaim their demonic prize. Within seconds, the earth opens up and swallows Lego Buzz Junior in a wash of flames as if he had never been.

"And now, because you've been such a good boy by helping to rid the world of evil Lego Buzzes, I'm going to give you a Christmas wish!" declares Santa... "Anything you want! Do you want me to make you a fireman?"
"Screw that!" says Lego Dave. "If I can be anything I want, I'm going to be a pirate who explores the world with Barky, and has big adventures with a monkey, and a Wookie!
"You got it, buddy!" says Santa.

And, with a wave of his hand, Santa gives Lego Dave his new Christmas wish...


AND EVERYBODY LIVED HAPPILY EVER AFTER AS "A VERY LEGO HOLIDAY TALE" COMES TO AN END!

(Well, except all the people who died in the process of this story... they're not so happy because, well, they're dead).