For the third time in a row, I was stuck in Seattle last night. All flights back to Wenatchee were cancelled yesterday, and it was so foggy that they couldn't even get a bus on the tarmac to take us over the pass. Worse, there was no guarantee that any flights would be leaving today (and, as far as I know, none ever did).
The good news is that I managed to find a ride back this morning. The bad news is that I had to make the trip on only three hours sleep.
The fancy hotel I stayed at had advertised wireless internet. But when I tried to log on, the billing page refused to fully load. The hotel blamed me, saying my computer "probably wasn't configured properly" and passed me to the provider's support desk at 10:15pm. Unfortunately, they didn't know anything, and said that they would have a "tech manager" call me back.
So I waited, and waited, and waited. But they never called. So I called back at 11:00pm and was told they would send another request. After waiting until midnight, I decided to give up and go to bed. I was looking forward to getting a full 6-hours sleep, because I haven't been getting nearly enough rest the past several weeks.
Naturally the internet support guy decided to call me back at 3:00am.
Since I couldn't get back to sleep, I spent the next three hours catching up on work and random blog surfing now that the billing page was working again.
The hotel refunded me the $9.95 access fee after I complained, but none of this would have happened in the first place if they offered free internet to their customers like they should. I can't help but think that hotels who charge for internet actually end up losing more than they ever gain by the meager fees they receive from charging for it.
I can honestly say that free internet access has now become more important to me than how many stars a hotels has, how fancy the lobby is, how big the rooms are, how many pillows you get on your bed, and whether or not you get a mint on your pillow. Give me a Hampton Inn or a Holiday Inn Express over the competition any day. Why? Complimentary internet.
CHAPTER 14: Crashing Through the Snow.
LEGO ADVENT CALENDAR TOY OF THE DAY: Traffic Light.

After escaping from the evil Lego Buzz, Lego Dave and Barky the Dog rush to get Mr. Mechanic and his severed hand to the hospital...

"Don't worry Mr. Construction Worker" exclaims Lego Dave. "We'll get you to a doctor in time! The hospital is just two blocks away after we turn this corner."
"Thanks guy!" the construction worker replies.
"Bark! Bark!" adds Barky the Dog encouragingly.

As Lego Dave rushes to push the wheelbarrow around the corner, a soccer mom talking on her mobile phone while driving an SUV suddenly runs up onto the sidewalk, heading straight for our heroic trio! With not a moment to lose, Lego Dave veers off the sidewalk, straining to maintain control. He manages to avoid being killed by the idiotic driver, but the wheelbarrow can't hold the sudden turn and runs into a traffic light pole.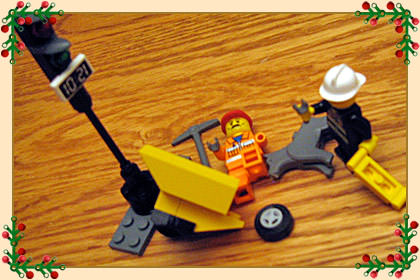 Barky the Dog and Mr. Construction Worker are thrown from the wheelbarrow, but are relatively unscathed.

"The wheelbarrow has busted an axle, so we're going to have to walk the rest of the way" declares Lego Dave. "Come on Barky, help me carry Mr. Construction worker to the hospital. We're running out of time!"
"Yeah, my severed hand is starting to smell funny" says the construction worker.
"I hope nothing else comes up to delay us" Lego Dave says cautiously.

Can they make it to the hospital in time to save Mr. Construction Worker's hand?

FIND OUT TOMORROW WHEN DAVE'S "A VERY LEGO HOLIDAY TALE" CONTINUES!