After last night's culinary disaster for dinner, I took absolutely no chances today. For breakfast I went straight to McDonalds for an Egg & Cheese Biscuit, then for Lunch I went to one of my most favorite places to eat in all the land... Big City Soup! Seriously, the soup here is so good that it should probably be a controlled substance. As if that wasn't enough, they've usually got two or three vegetarian selections on the menu, so there's always something good for me to eat.
Today I decided on a Cheese Panini with their delectable Tomato-Basil soup that was ever so yummy. Almost worth a trip to Salt Lake City all by itself...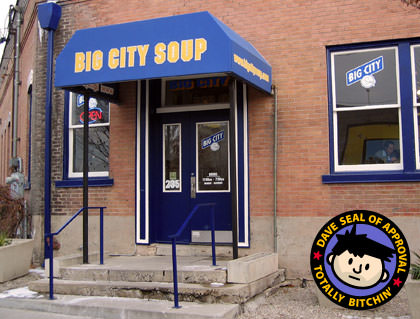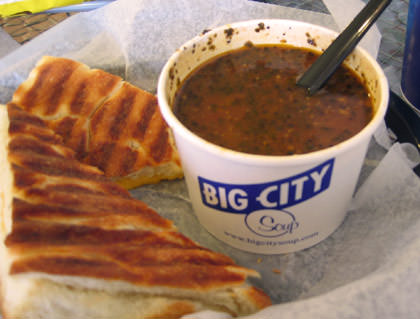 If you're ever in town, I'd highly recommend dropping by Big City Soup.
It came as no surprise that SLC has a new Apple Store here at The Gateway, and I felt compelled to run in and caress a video iPod for a few minutes. This is always a dangerous gambit, because one day the temptation will be too great. Fortunately I was semi-rational today, and was able to leave without a $400 dent in my credit card.
But I want one ever so bad.
CHAPTER 13: Jingle Hell.
LEGO ADVENT CALENDAR TOY OF THE DAY: Crossing Arm.

Lego Buzz has just chopped a crossing guard in half, and is moving in on Lego Dave and his friends...

"YEEEEEEEEE HAAAAAAW!" screams Lego Buzz as he starts inching towards Lego Dave, his rotary saw slicing through the air in wide arcs. "I'm gonna cut you... CUT YOU UP!"

But before Lego Buzz can take another step, a crossing arm comes crashing down on him! Barky the Dog has snuck into the dead crossing guard's control booth and managed to press the "DOWN" button!

"Bark! Bark!" says Barky the Dog triumphantly!
"Argh!" says the evil Lego Buzz!
"Cool!" says the construction worker with his hand chopped off!
"Way to go Barky!" says Lego Dave! "Now hop in the wheelbarrow, because we need to get Mr. Construction Worker to the hospital before gangrene sets in!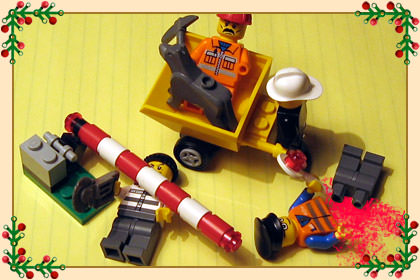 Is this finally the end for Lego Buzz?

FIND OUT TOMORROW WHEN DAVE'S "A VERY LEGO HOLIDAY TALE" CONTINUES!