I'm swimming in a plethora of hate mail, and haven't been this entertained in months! Where do you guys come up with this stuff?!
By far, my most favorite email of the week (perhaps the entire year), was from somebody who wrote me an impassioned letter over my making fun of "Intelligent Design". They started out preaching fire and brimstone, then settled into a series of scripture quotes, then said they love me, then say they will pray for me, then threatened me with eternal damnation in hell if I don't stop mocking The Almighty. This was not the first time, but I never get tired of hearing it.
You'd think that the fact I'm rendered as a cartoon and have a screaming monkey with me would be a big clue that I'm not actually serious about being God, but apparently there is room for confusion here...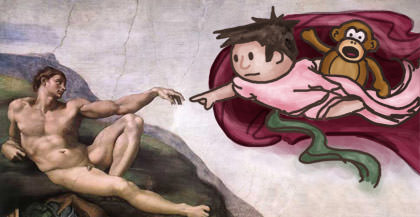 But the big finale of the email was regarding THIS image...
However, it's not the actual picture that got the guy all riled up... it's the fact that I titled it "Dave Lord". This was apparently enough to send my new best friend over the edge, because he started typing in ALL-CAPS!!
"THERE IS ONLY ONE LORD! JESUS IS LORD OVER ALL!!!! THERE IS ONLY ONE WAY TO THE ONE TRUE GOD AND HIS HEAVENLY KINGDOM AND THAT IS OUR LORD AND SAVIOUR JESUS CHRIST!!! YOU PROCLAIM YOURSELF AS A FALSE GOD AND DENY JESUS WHO IS OUR TRUE GOD!!!!!!"
I wonder if Lord Vader has to put up with this?
But mostly I wonder how somebody could actually take anything they read here this seriously.
Well, that and I wonder when my worshipers will finally come through with the bank to build DaveLand.
But mostly that "taking this serious" thing.
CHAPTER 15: Hark the Harold Mechanics Sing.
LEGO ADVENT CALENDAR TOY OF THE DAY: Mechanic with Wrench.

There's been an accident on the way to the hospital, and now Team Lego Dave struggles to get Mr. Construction Worker to a doctor in time to save his severed hand....

"Hey Barky... help me carry Mr. Construction Worker to the emergency room!" says Lego Dave. "We're running out of time."
"Bark! Bark!" says Barky the Dog hopefully as he grabs the severed hand from the ground.

But just as everybody starts limping towards the hospital, they hear a voice...

"Hey guys, hold up a second" a man says. "I'm a mechanic and I can fix that wheelbarrow for you in just a few seconds!"
"That's really cool of you!" exclaims Lego Dave as he turns back towards the street lamp. "Thanks for your help Mr. Mechanic, now we can get to the hospital twice as fast!"
"Anytime, fella!" replies the man with the wrench as he gets to work.

But just as the construction worker limps back to the repaired wheelbarrow, the mechanic starts screaming in pain! "AAAAAARGH!!" he says!

"What the-" Lego Dave stutters. "Holy crap! It's Lego Buzz! He's sawing Mr. Mechanic in half!"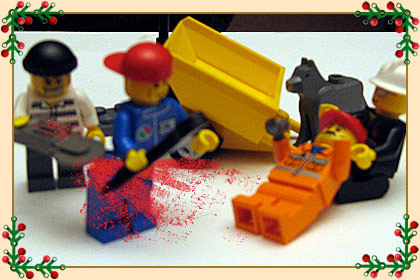 "Dude" screams the construction worker!
"Shouldn't you be dead?" Lego Dave inquires. "That crossing arm that fell should have crushed you!"
"No way, buddy!" Lego Buzz laughs. "I sawed through that like butter, and now I'm going to saw through YOU!"

Lego Buzz is ALIVE? How can Lego Dave get away this time?

FIND OUT TOMORROW WHEN DAVE'S "A VERY LEGO HOLIDAY TALE" CONTINUES!