It's snowing today. Hard.
And since it's a wet, sloppy, heavy snow, it makes things so much worse. After clearing the snow off of half my car, it had already been covered again by the time I was finished with the other half. Driving is fantastically difficult, because they can't keep the streets plowed. There were moments coming home tonight where I could barely keep my car on the road, and I actually ended up getting stuck in the parking lot... twice. I need to move to the Caribbean or something, because this sucks ass...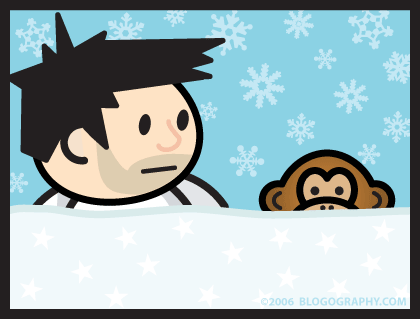 And then there's those morons who don't bother to clean the snow off the top of their cars... so when you drive behind them, you've got chunks of snow blowing into your windshield the whole time. That makes a sucky thing suck even more. Time for Captain Road Rage.
Sadly, the snow (along with my work obligations) has me deciding not to take my annual trip to Seattle for New Years tomorrow. That's a bit of a bummer, because it's one of those rare things I look forward to every year.
Well, that and "Talk Like a Pirate Day" (May 13th).
And "Carb Awareness Day" (May 20th).
And, of course, "National Lap Dance Day" (November 25th).
Dang. I just realized that I failed to celebrate National Lap Dance Day this year! Well crap. I wonder if that means I can celebrate twice this year?