A friend of mine is really into the online gaming world, and convinced me to buy an Xbox so we could play games together using their Xbox Live internet service (despite living on opposite sides of the country). It's a nifty idea, because that way we could interact with each other in a more exciting way than distance would normally allow. The problem is that I am not home that often to play it, and can't take it with me when I'm gone. Even worse, most of the games are massively complicated, requiring you to memorize the functions of a dozen buttons and two control pads, which is far more than my brain is willing to learn. With the exception of an occasional game of Lego Star Wars, the Xbox spend most of its time collecting dust.
Earlier this month, he decided to try one last time to get me into gaming, and sent me a brand new "Nintendo DS" as a holiday gift. And it's not just any DS... it's the cool limited edition red one that was bundled with the game Mario Kart...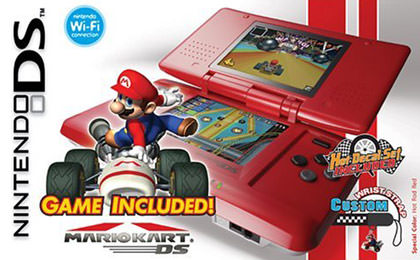 Even though I had seen both the Nintendo DS and the PlayStation Portable, I had long-since decided to not buy either one of them. The DS didn't look any different from my GameBoy Advance (except for the dual screens)... and the PSP was too expensive and didn't have any games I wanted to play. But since my friend was footing the bill, the least I could do was give it a try. After two weeks of sitting unopened, I finally got around to turning it on this past Monday.
And then I realized why he sent it. The thing has Wi-Fi! (and unlike Xbox, you don't have to pay extra to play over the internet). Using a public wireless connection, Nintendo Wi-Fi enabled games will let you play with anybody in the world. Once I traded "friend codes" with my buddy back on the East Coast, we can race little go-carts against each other no matter where I am. It's far, far cooler than I can describe here, and really has to be played to be believed. Ultimately, the joke is on my friend though, because I totally suck ass at the game (and have won only once in the twenty races we've played).
But Wi-Fi is not even the coolest thing about my new DS.
The really cool thing is that you can talk to it with voice recognition AND control the game using a touch-screen! This simplifies things in a huge way, and is much easier for me than trying to figure out the dozen buttons on my Xbox controller. And the game I got a few days ago shows off exactly how amazing this can be... it's called "Nintendogs" and is a puppy simulator.
You start out going to the puppy farm and picking out a mutt to call your own. Once you take him home, you can pet him, play with him, talk to him, buy him stuff, dress him, teach him tricks, enter him in competitions, take him for walks, and do all kinds of other things you could do with a real-live dog... but without having to clean up after him. The touch-screen and voice recognition makes all this possible in a way I've never seen before. And, as if that weren't enough, the dogs are mind-numbingly cute...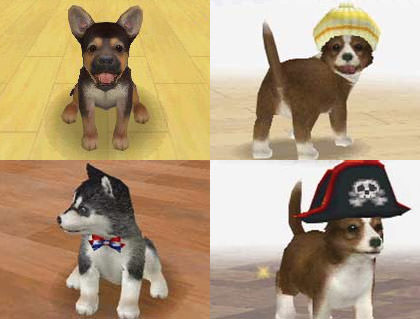 My dog is a German Shepherd boy puppy that I've named "Barky" (he looks like the dog in the upper-left square above). I couldn't get any photos of the screens to turn out, so I've nabbed some from IGN to show you what the game looks like...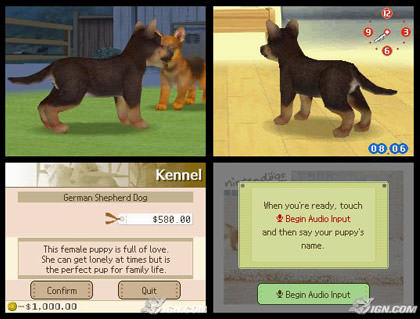 When I call out "Barky", my puppy comes wandering up, and I can then use the touch-screen to pet him or teach him tricks... even feed him or give him a bath. It's absolutely bizarre just how life-like he is. Barky acts just like an actual dog who has somehow become trapped in my Nintendo!
The game is even stranger when you realize that you can interact with other dogs using "Bark Mode". With this feature enabled, any other Nintendogs owner who wanders in your wireless range (100 feet) will cause your Nintendo DS to start barking. Then your dogs can play together and trade gifts and stuff. I've only been able to try it once, but it opens up the simulation to an entirely new level and is very cool.
There is a down-side, however...
Your puppy demands attention.
Unlike most games, time passes with Nintendogs. For real. Even when you turn off the game, the clock is still ticking. If you forget to turn on your game for a few days, the puppy will be all whiny and hungry and need a bath. I'm told that if you wait too long, he may even run away for a little while to teach you a lesson. Because of this, I am sure to keep Barky by my night-stand so I'll remember to goof around with him each day. I would be very sad indeed if he were to run away on me.
Unfortunately, Nintendogs is not a Wi-Fi game, so I can't visit other puppy owners via the internet. Hopefully this is planned for 2.0 or something, because it seems like it would be a nifty addition to the simulation (and something you can't do with real dogs).
All-in-all, I have the give the game system a big "thumbs up". Nintendo has done an amazing job of revitalizing video games (again) and I'm truly frightened at the amount of time I will undoubtedly be wasting with this thing.
Now, if you'll excuse me, Barky and I will be going for a walk...