Today is the first day of Washington State's public smoking ban. You can no longer smoke in ANY public areas including the workplace, bowling alleys, bars, restaurants (and probably hotels). Nor can you smoke within 25 feet of a door or window to such a place. I don't smoke, so it's no big deal to me, but it still seems a very strange law. If I own a bar, shouldn't I be able to allow smoking there if I want to? Apparently not.
I'm sure there's a public farting ban right around the corner.
Yet a public stupidity ban is still nowhere in sight.
CHAPTER 8: Away in the Danger
LEGO ADVENT CALENDAR TOY OF THE DAY: Acetylene Torch.

Lego Dave and his new friend Barky the Dog are about to be sawed in half by a crazed crook...

"Hey, take it easy buddy!" Lego Dave says as he backed away from the whirling saw blade. "There's no need for violence here!"
"Bark! Bark!" exclaimed the dog warily.
"Oh yeah? Well I think there IS a need for violence!" Lego Buzz cackled as he lurched forward.

Unfortunately for Lego Buzz, he didn't see the severed hand that Barky had dropped in his path. Even more unfortunate is that he slipped on the bloody hand and slid right into the acetylene torch he had brought to cut open the safe. And just when you think that things can't get any more unfortunate, the rotary saw that Lego Buzz was wielding started cutting into the metal tanks...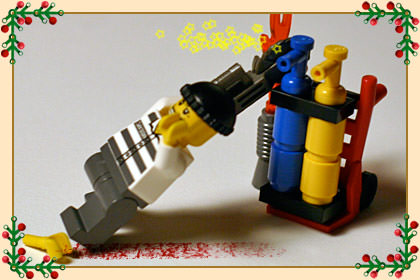 "WAAAAAHHH! I'm stuck" Lego Buzz screamed as sparks showered from the saw blade.
"Holy cow!" Lego Dave shouted above the screeching metal. "That looks dangerous! Let's get out of here Barky!"
"Bark! Bark!" Agreed his canine pal.

A second later, the saw has cut through the steel tank and sparks ignite the gasses within. A violent explosion erupts, engulfing the room!

Yikes! Did Lego Dave and Barky manage to escape in time?

FIND OUT TOMORROW WHEN DAVE'S "A VERY LEGO HOLIDAY TALE" CONTINUES!