Winter travel sucks ass.
First my flight out of Wenatchee was delayed (bad weather). Then my flight out of Seattle was delayed (first fog, then the infamous "mechanical difficulties" excuse). As if the delays weren't bad enough, hanging around airports when people are freaking out is about as bad as it gets. Passengers screaming at gate agents. Passengers screaming at other passengers. Kids screaming at nobody in particular... if it weren't for my iPod drowning out the chaos, I'd be pretty insane right about now.
Panic on the runways of SeaTac...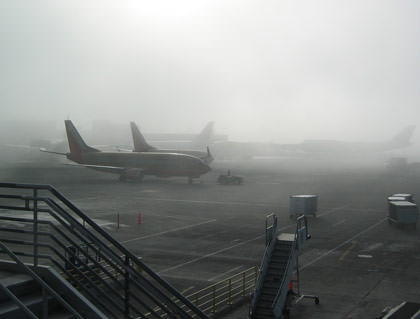 Proving that you simply cannot travel without the inevitable freak-factor (the last time I flew to Salt Lake City, I had to witness a guy shaving his chest in the bathroom), today I got to see an older hippie couple (the sixties were NOT kind to these people) picking out porn mags together at Hudson News. "Oooooh she's pretty" says the woman. "You know she's not my type" says the man. Gack! Now I have heinous images running through my mind, and almost need to buy a porn mag myself so that I can put my head back to "normal."
Of course, "normal" is a relAAAAAAAAAAHHH! AAAAAAAAAAAAAAAAAAAAHHH!
Somebody is clipping their fingernails. SOMEBODY IS CLIPPING THEIR FINGERNAILS!!!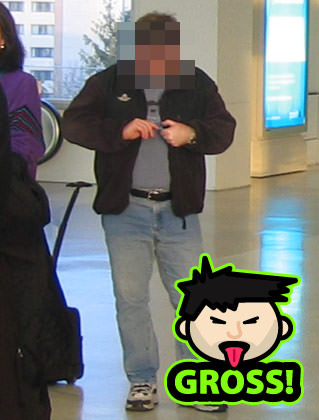 And the worst part is that his fingernail clippings are probably flinging off into that lady's hair and stuff! Oh gag! Public nail-clipping should be punishable by bitch-slapping. Still, this is not quite so bad as the lady in McDonalds from a couple of weeks ago.
Oog. Because of the flight delays, it looks like today's Lego Holiday Tale chapter is going to have to be done under less than ideal conditions...
CHAPTER 11: Crash the Walls.
LEGO ADVENT CALENDAR TOY OF THE DAY: Road Barrier.

Lego Dave and his faithful companion Barky the Dog are rushing the brave construction worker to the hospital all while being chased by the evil Lego Buzz...

"HEY! LOOK OUT!" the construction worker yells. "THERE'S ROAD CONSTRUCTION AHEAD!"
"Bark! Bark" warns Barky the Dog as he hops in the wheelbarrow.

Lego Dave nearly runs into a steamroller, but managed to skid around a street corner instead.

"That was close!" sighs the construction worker.
"Bark! Bark!" agrees Barky the Dog.
"We're not out of the woods yet!" says Lego Dave... "there's a barrier ahead!"
"That's not all!" the construction worker hollers. "That lunatic with a saw took a short-cut and is coming this way!"

"Oh no!" exclaims Lego Dave. "Doesn't his rotary saw ever run out of gas?"
"DIE! DIE! DIE!" shouts Lego Buzz.

Things are looking mighty grim for our heroes... how can they possibly escape from Lego Buzz this time?

FIND OUT TOMORROW WHEN DAVE'S "A VERY LEGO HOLIDAY TALE" CONTINUES!