I am sick.
And I have gone totally gay over Ryan Reynolds.
It's entirely possible that I am sick because I've gone totally gay over Ryan Reynolds, but I'm pretty sure it was the crappy dinner I ate. And when I say "crappy" I don't mean that there was literally crap in it, but that it tasted terrible. And now my stomach aches and I've got cramps so bad that it feels like my intestines are trying to claw their way out of my torso.
HEY! You don't think that there actually WAS crap in my food do you?!? Because that would certainly explain a lot.
It's no fun being sick, but it's even worse when you are far from home...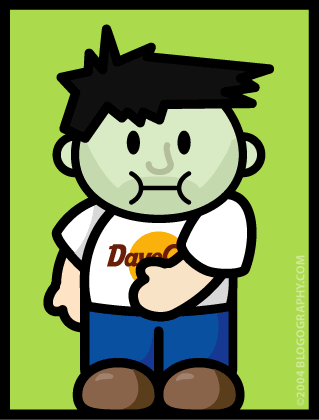 Anyway, before the gastronomical disaster that was my dinner tonight, I went to go see the movie Aeon Flux. But Aeon Flux was sold out until midnight, so I decided to go see Just Friends starring Ryan Reynolds. It was not a good movie. It was, in fact, a pretty bad movie. It was cliched and slapsticky and there was too much time between genuinely funny moments. In the end, I think it had potential to be a good movie, except the pacing was all off and it wasn't charming enough to make for good romantic comedy.
But I ended up liking the film anyway.
And it's all because of Ryan Reynolds. The guy is hysterical funny...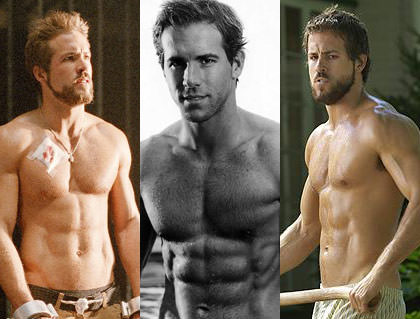 I first remember seeing him in Two Guys, a Girl, and a Pizza Place, but he eventually worked his way up to starring roles in Van Wilder, Blade Trinity, The Amityville Horror remake, and now Just Friends. None of these films were anything remarkable, but I think Ryan Reynolds was entertaining in all of them (how can you not love "Berg" from Two Guys, a Girl, and a Pizza Place?). I can only guess that it's because he's an astoundingly talented actor and a genuinely funny guy...
...or because I find him totally hot.
When I get that all figured out, I'll be sure you let you know. In the meanwhile, I think I need to go puke my guts out.
CHAPTER 12: Christmas, Bloody Christmas..
LEGO ADVENT CALENDAR TOY OF THE DAY: Crossing Guard with Traffic Paddle.

Lego Dave and his faithful companion Barky the Dog are rushing the brave construction worker to the hospital, but the evil Lego Buzz has caught up to them...

"NOW YOU CAN ALL DIIIIIIE!" screams Lego Buzz, his eyes filled with hate.

"Don't stop!" yells the construction worker. "Smash through the barrier and run him down!"
"Bark! Bark!" agrees Barky the Dog.

Lego Dave grits his teeth and charges forward, busting through the barrier and knocking Lego Buzz on his ass. The resulting crash tips over the wheelbarrow, and everybody goes tumbling to the ground.

"Hey!" yells a crossing guard running up to the scene of the crash. "You can't run a construction barrier! That's illegal! I'm going to have to write you a ticket!"

Then, out of nowhere, Lego Buzz appears... "TICKET THIS!!" he yells and he plunges his rotary saw into the crossing guard's stomach. "WAAH HA HA HA HAAAAHHH!"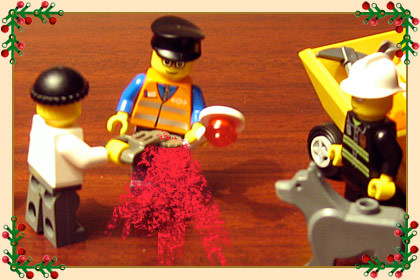 "Dude!" exclaims Lego Dave.
"Bark! Bark!" frets Barky the Dog.

"AND NOW YOU'RE NEXT! ALL OF YOU!" screeches Lego Buzz, clearly out of his mind. "BWAH HA HA HAAAAH!"

Has time finally run out for our heroes?

FIND OUT TOMORROW WHEN DAVE'S "A VERY LEGO HOLIDAY TALE" CONTINUES!