I take most all of my photos with a Canon Digital Rebel SLR. It's a terrific camera, but kind of big and bulky to lug around. Because of that, I also have a Canon Elph that's so small I can fit it in my pocket. It goes with me everywhere, and I often use it as a backup just in case my big camera gets lost, stolen, or broken. The problem is that I never manage to remember to off-load the photos on it. They just keep piling up until I run out of space on the memory card and am forced to deal with it.
And today's the day.
The photos go all the way back to August of 2004, and include dozens of random shots I have no idea why I ever took. Some of the more recent ones I actually do remember...
This photo from Shanghai is kinda cool, mainly because I took it from a moving taxi cab, and didn't have much flexibility in composing the shot. The name of the sculpture is "Light of the East" and is pretty nifty, especially with the clouds in the background.
Also from China is a photo of the entrance to the famous "Peace Hotel" and a shot of The Great Wall that actually turned out better than much of the stuff I took with my "real" camera...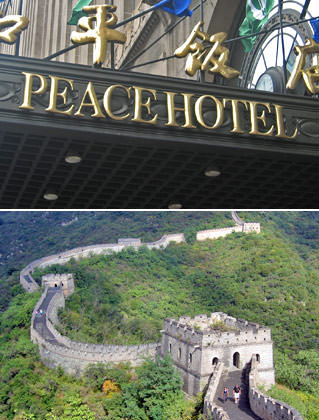 Then there's a shot I took of the "Cloud Gate" sculpture in Chicago's Millennium Park while walking down Michigan Avenue, and a shot of Bryce Canyon in Southern Utah...
There were also some shots of me that Monica took to use for my IT-2 forum profile (whatever happened to the Creative Commies movement anyway?). I like the second one, because I look totally constipated...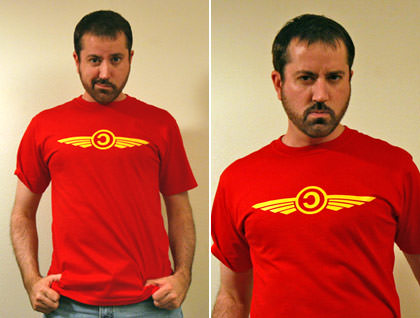 And lastly, a shot of a frozen tree at the local airport. And a picture of Thanksgiving decorations...
When did Thanksgiving decorations start looking like crap you raked out of your back yard? I remember not so long ago when there were paper turkeys that folded out, or little chipmunks in pilgrim hats and stuff. Now, you just take a bunch of sticks, leaves, twigs, seeds, pods, and tree bark... toss it in a dish... and, yeeehaw, it's a decoration.
Lastly on my camera, is a very special episode of "A Very Lego Holiday Tale" you won't want to miss...
CHAPTER 16: Little Driller Boy.
LEGO ADVENT CALENDAR TOY OF THE DAY: Drill Press.

The mechanic who was kind enough to help Lego Dave, his faithful companion Barky the Dog, and Mr. Construction Worker, has just been cut in half by the evil Lego Buzz....

"Let's get out of here!" screams the construction worker. "He's going to kill us next!"
"Bark! Bark!" agrees Barky the Dog, as he backs away from the psychotic Lego Buzz.
"Let's hide in Mr. Mechanic's workshop" says Lego Dave. "RUN FOR YOUR LIVES!"

With Lego Buzz and his rotary saw hot on their heels, the trio make their way into the garage.

"Let's split up" suggests Lego Dave. "We'll meet at the back door once we've lost him."
"You got it fella!" says the Construction Worker enthusiastically.
"Bark! Bark!" confirms Barky the Dog.

The team splits up, each heading off into the dim recesses of the mechanic's massive garage. For several minutes, nothing can be heard as each of our heroes makes their way to the rear exit of the workshop. But suddenly, in a moment of horror, the silence is broken by the sound of machinery and a lone dog barking.

"BARK! BARK! BARK! BARK! BARK! yelp!"
"BARKY?!?" screams Lego Dave in a panic. "Is that you? What's wrong buddy?"

Unconcerned for their own safety, Lego Dave and Mr. Construction Worker go running towards Barky the Dog. But, when they arrive, only pain and sadness await...

"DUDE! Your dog has been drilled full of holes!" utters the shocked construction worker. "That is so wrong."
"BARKY!" screams Lego Dave as he runs to his canine friend. "Oh Barky."

But the dog does not stir, even when his head is cradled in Lego Dave's lap. Tears rolling down his face, Lego Dave says goodbye to his good best friend.

"Oh Barky!" Lego Dave sobs. "I would give anything to have you back."

One of our heroes is gone... do the remaining duo have a chance of escape?

FIND OUT TOMORROW WHEN DAVE'S "A VERY LEGO HOLIDAY TALE" CONTINUES!